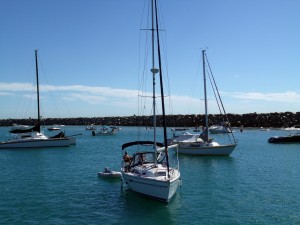 A week and a half ago I skippered a 44-foot Trojan International to Avalon for the day, so an out of town couple could spend part of their 10 year wedding anniversary celebration as guests of one of the owners. The seas were calm and the ocean water temperature was 73-degrees, continuing the second year of five to seven-degree warmer water temperatures.
This time of year is always a prime time for boating, as the tourist and visitor population is greatly diminished but the weather is still summer warm—make that hot, hot, hot!
Even though Avalon had a cruise ship anchored outside the harbor bringing passengers ashore for the day, the visitor volume was half the summer amount. Most stores and restaurants had quaint portable signs promoting cruise ship specials and sales.
After dropping off the guests at the Avalon pier and obtaining a mooring, I signaled the shore boat and had a delicious fish and chips lunch at the bay front Bluewater Grill.
One of my favorite past times in Avalon is to walk the side streets and marvel at the old wooden beach cottages, well maintained and reminiscent of the Balboa and Balboa Island residences of my youth.
My next voyage was cruising Sun Dance to Emerald Bay in North Laguna. The weather folks spoke of larger surf forecasted from the west, which caused unusually heavy surge in the cove where normally the east point of the cove and reef lay down the west swells.
We chose to cruise east, stopping in a crowded anchorage in Dana Point Harbor. While the surf broke over the rock break water, the anchorage was calm, with their "Mother's Beach" busy as a mid-summer Sunday.
Whether boating in Newport Harbor, Dana Point Harbor, Avalon, points east, west or south, weekday or weekend, boaters and beach goers are escaping the inland heat in the same manner they did in July or August.
Living in this area offers myriad water sports: swimming, fishing, sailing and cruising in boats, kayaks and paddle boards, all done in sunny and hot weather. We're the envy of all points east.
Sea Ya,
Skipper Steve