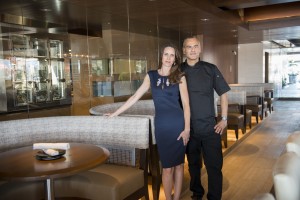 By Christopher Trela & Catherine Del Casale | NB Indy
The Ritz Restaurant was one of Orange County's iconic old school restaurants. It reigned supreme in Fashion Island for decades as a classic steak house with dark booths, a clubby-interior with various sized dining areas scattered through the restaurant, and a menu that focused on old-style favorites.
It was once the place to see and be seen, but with new trendy restaurants coming into the area, and the Irvine company landlords deciding not to renew the restaurant's lease, The Ritz realized its time had come and closed its doors on Feb. 15, 2014.
Now, The Ritz has returned to Newport Beach, but the restaurant has been reinvented as The Ritz Prime Seafood, and

it has a new location: Mariner's Mile on the water next to Billy's at the Beach.
The new restaurant comes courtesy of Grill Concepts (Daily Grill and other restaurants). The restaurant spans over 6,800 sq. ft. with the capacity to seat 186 guests indoors, and a 700 sq. ft. patio with an additional 40 seats.
Grill Concepts' Executive Chef Phil Kastel developed the menu alongside Michael Stewart, who we're told will take the helm as Executive Chef at The Ritz Prime Seafood.
The restaurant is a decided (and welcome) departure from the old Ritz, as we discovered during our visit last weekend.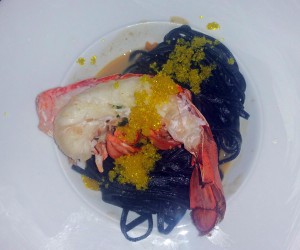 "I love the décor and ambience," enthused Catherine. "The large semi-circle booths remind me of the old Ritz layout but now with a modern and contemporary vibe. The ambience still brings about a sense of community that's elevated by the two long community tables, and the wrap-around dining area that's open and spacious."
"I agree—I love the large windows that look out at the yachts docked in the harbor, and the piano in the lounge with bar stools around it," added Christopher. "I suspect this place will draw a different crowd than the old Ritz."
It's also a different menu than the old Ritz. About the only thing that remains is the famed Ritz Egg ($16) with smoked salmon and caviar. The rest of the menu accentuates seafood (including sushi) from cod to lobster, plus a few steaks and side dishess.
After sipping on two creative cocktails (Christopher said his key lime martini was like drinking key lime pie–and that's a good thing!), we started with an appetizer of braised short rib and seared scallops ($21). This dish comes with three scallops resting on beds of short ribs with celeriac puree. The combination of the surf and turf flavors worked perfectly.
For entrees, Christopher went for the lobster and squid ink pasta with uni butter ($38), while Catherine ordered the
dry aged prime New York strip ($55) with umami butter, fennel pollen, and blistered Campari tomatoes. We also ordered a side of creamed kale ($12)—mainly because we've never seen a creamed version of kale until now.
"You know I love squid ink pasta but rarely see it on a menu," confided Christopher to Catherine. "This is simple and delicious, especially when you add the lobster to the mix. I'd love to see this dish with lobster chunks already in the pasta, but that's because I'm a klutz when it comes to removing lobster from a shell—even half a shell. How's your steak?"
"Mmm" was Catherine's reply as she savored the generous portion of beef.
For dessert, we shared a slice of what will probably become a signature dessert—coconut cake with layers of lemon frosting. A perfect combination of flavors, and a perfect way to end the evening.
"We feel we've achieved a beautiful balance of evolving the fine dining experience in Newport Beach, while honoring the beloved history, rich memories and innovative vision of the original Ritz," said Grill Concepts' CEO Bob Spivak in a statement.
We completely agree.
For reservations or more information, call (949) 720-1800, or visit ritzrestaurant.com.