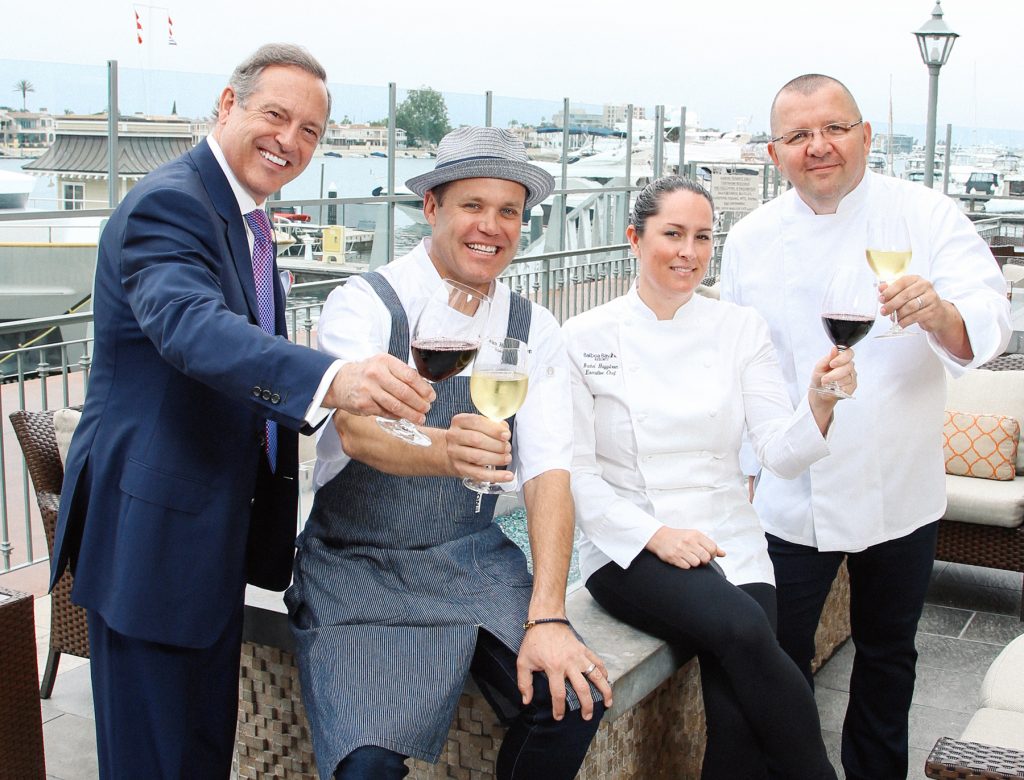 It's only one week until the 4th Annual Newport Beach Wine & Food Festival, and we're already salivating over the sensational lineup of restaurants that are participating this year.
We're also impressed with the wineries—which is important when you're listing Wine before Food in your festival's name.
But in addition to the weekend grand tastings on Sept. 30 and Oct. 1 at the Newport Beach Civic Center, there are several spectacular dining events being held on Friday, Sept. 29.
Top Chef Winner, Brooke Williamson, Top Chef 1st runner up, Shirley Chung and Top Chef three-time finalist, Casey Thompson, will be at Balboa Bay Resort's Waterline Restaurant along with Waterline executive chef Rachel Haggstrom for a five-course tasting menu, while renowned chef, restaurateur, author, James Beard award winner, Nobu Matsuhisa, hosts a multi-course tasting event with paired champagnes.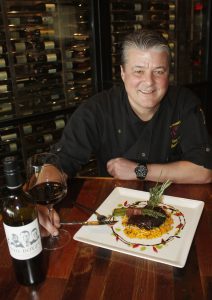 Both of those events are sold out, but you can still get tickets for the Friday evening dinner at The Winery Newport with James Beard winner, Bravo's Top Chef Master finalist, cookbook author, star of PBS "Secrets of a Chef" and restaurateur, Hubert Keller, along with executive chef/owner of The Winery, Yvon Goetz (a stellar chef in his own right), executive chef of Pelican Hill Jean-Pierre Dubray (a culinary wizard) and executive chef of Driftwood Kitchen, Rainer Schwartz (another superb local chef).
The evening begins with a one-hour cocktail reception with hand passed hors d'oeuvres, a meet and greet with chefs, and a four-course tasting wine pairing menu. Master Sommelier Michael Jordan will discuss each pairing, and the chefs will discuss each dish. There will be a Q & A with the chefs during the dessert course.
The dinner is $295 per person, and is an experience not to be missed. If you go, be sure to look for us and say hello—we'll be there celebrating Christopher's birthday!
Behind the Scenes
Between the weekend grand tastings, the Friday night dinners and various ancillary events, there is a lot going on at the Newport Beach Wine & Food Festival.
Overseeing the madness leading up to the event is Stefanie Salem, founder and CEO of the Newport Beach Wine & Food Festival.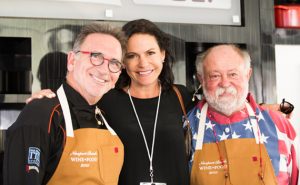 Salem is a devout foodie and wine connoisseur (which explains her obsession with the Festival), but she also has two decades of experience in international business including living and working in foreign countries, collaborating with political leaders and leading projects with economic corporations. Salem has parlayed those skills into helping her secure high-profile sponsors, participants and partners for the Festival.
After founding the Newport Beach Wine & Food Festival in 2014, Salem was honored as one of the "Most Influential People of 2015" by our sister publication, Newport Beach Magazine. In that same year, the Festival was also touted as the "Top 5 Places to Travel to in October (World-wide)" by Forbes Travel.
We asked Salem earlier this week how the last-minute planning for this year's Festival was going.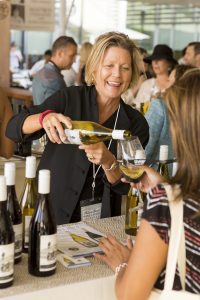 "There are so many details, but we're always more prepared every year," Salem told us. "We're really organized. This is a passion project for me. I'm working 16-hour days, but it's all coming together. We listen to people and take comments very seriously, we make changes and make the event better every year."
That includes adding special Friday night events, plus an after-party on Saturday night dubbed Havana Nights at a private location in Newport Beach.
"I spent a month in Cuba recently and decided to have a Havana Night with live Cuban music and food, plus Cuban cigars," said Salem. "All of the celebrity chefs from the Festival will be attending."
That would make 14 celebrity chefs, but Salem also has eight Master Sommeliers at her event, which is also impressive.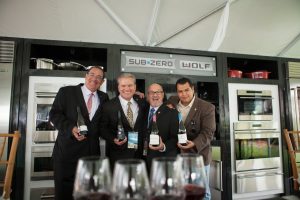 "They're coming to teach and share their knowledge," said Salem. "Our event is still boutique so you can get access to these people. It makes it really special."
Also special is the fact that more than 40 restaurants are participating over the two-day grand tasting, along with nearly 50 wineries pouring tastes of multiple wines—meaning it's impossible to taste everything over the course of two days.
"We require a vintner or sommelier or a rep from the company to be there to educate people about the wines and answer questions," explained Salem. "I want people to learn, to be surprised, and sample something unique that they have not tried."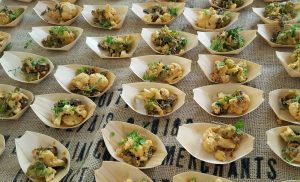 Salem said a new sponsor this year is MoetHennessy, which is hosting receptions at every dinner event and pouring glasses of bubbly at the grand tastings.
Other events of note, said Salem, are the daily Master Sommelier tastings with Michael Jordan and Peter Neptune, a sommelier panel called "Don't Talk About It—Drink It!" and the cooking demos with chefs such as Brian Malarkey, Amar Santana, Fabio Viviani and many others.
"We have so many different things—whether you're into cooking, wine, food, all of our experts are there to meet the guests and take care of them," said Salem. "It's fun to meet all these experts."
To purchase tickets for the various events, visit NewportWineandFood.com or call (888) 511-FEST.