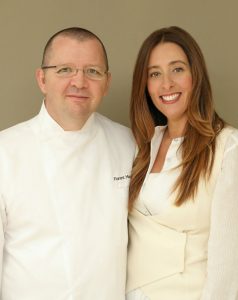 By Christopher Trela & Catherine Del Casale | NB Indy
It's always sad when noted restaurants close, but even better when they're just moving their location to new larger digs.
That's the case with critically acclaimed restaurants Marché Moderne and Il Barone, both of which have announced their departure—and arrival.
Marché Moderne, one of Orange County's most renowned restaurants, has already served its last meal at its location inside South Coast Plaza. We had a memorable lunch there last fall, but we'll have many more at the restaurant's new location in the Crystal Cove Shopping Center in Newport Coast.
Marché Moderne is taking over the spot formerly occupied by Tamarind of London, a slightly larger facility than the Costa Mesa restaurant.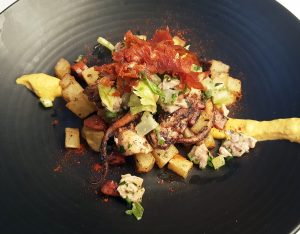 "We are excited to begin our next chapter here in the stunning Newport Coast community, and look forward to the culinary evolution of Marché Moderne," said Chef Florent Marneau, who spent several years at Pinot Provence in Costa Mesa before opening his own restaurant.
We're told that the market-inspired menu will offer a taste of France and will likely include signature dishes such as Foie Gras, Coq au Vin, Grilled Octopus, Lobster and Scallop Dugléré and Duck Confit.
Visit marchemoderne.net for updates on their impending opening.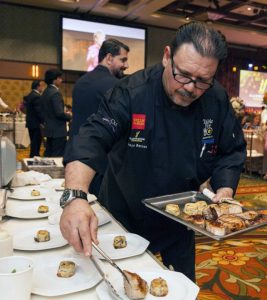 Another local favorite of ours, Il Barone, has been tucked away in a small strip mall near the John Wayne Airport since Chef Franco Barone opened the restaurant a few years ago. He and his wife Donatella added an Italian market adjacent to the restaurant, and both are consistently busy for lunch and dinner.
Franco and Donatella recently announced that they are moving the restaurant, but not far. They are taking over the closed Coco's restaurant on Bristol Street, about a gnocchi's throw from Moulin and Juliette Kitchen & Bar.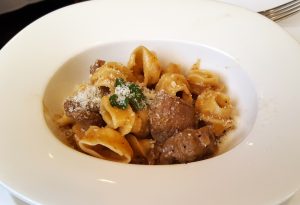 The new restaurant will be larger, as will the kitchen. Remodeling is already underway, with a planned reopening this May. Franco will continue to serve his authentic Italian cuisine in the old location until the new restaurant opens.
"As a member of the Southern California Restaurant Writers Association, I voted to award Franco the coveted Chef of the Year award several years ago," recalled Christopher. "I enjoyed his cuisine when he was the chef at Antonello, but he really took his cooking to another level after opening his own restaurant. He's almost always in the kitchen during lunch and dinner, putting his personal touch on each dish that comes out."
Visit ilbaroneristorante.com for details.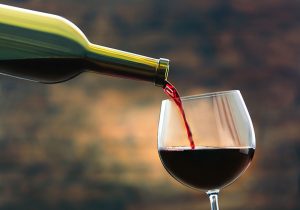 Wine Dinner Downpour
When it rains, it pours.
We're not talking about our recent wet weather, we're referring to local wine dinners. This week we enjoyed a spectacular five course wine dinner at Five Crowns. Next week, we attend a wine dinner at Back Bay Bistro. Balboa Bay Resort also launched its own wine dinner series that continues this April. We say the more, the merrier!
The Feb. 23 wine dinner at Back Bay Bistro promises to be a tasty affair, featuring cuisine prepared by Executive Chef Bruno Massuger paired with wines curated by Hi-Time Wine Cellars (one our go-to spots for wine).
The evening begins with a welcome reception on the Harborside Courtyard with appetizers (Maine scallops wrapped in bacon, lamb lollipops) and Prosecco, followed by a five-course dinner.
The menu features such delights as crisp pork belly, Chilean seabass with brown butter pistachio risotto, porcini dusted filet of beef, bandy canyon mixed greens, and layer chocolate cake.
Cost for this wine dinner is $75 per person. Call (949) 729-1144 or visit NewportDunes.com/bistro for details.
Balboa Bay Resort launched its own wine and spirit dinner series last week inside Waterline Restaurant with a Justin Vineyards dinner, and continues in April with a Joseph Phelps dinner followed by a Far Niente and Nickle & Nickle dinner.
Other upcoming wine dinners at Waterline include a Grey Goose vodka dinner, beer versus wine, Italian opera wine dinner, and a champagne dinner.
We talked to Executive Chef Rachel Haggstrom about the wine dinner series, so look for her insights in our column next month. In the meantime, call (949) 630.4145 for details.