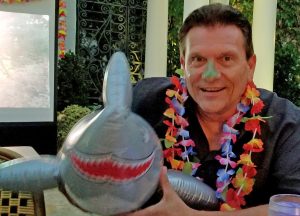 The Five Crowns Secret Dinner Society, also known as 352 Poppy (formerly known as the Speakeasy), has evolved from dimly lit rooms and absinthe cocktails into fun themed evenings of food and libations held on the Five Crowns patio.
The latest incarnation (held the first weekend of every month) was a Beach Boys/surfing theme, complete with a island decorations, blow up sharks, a large screen TV showing surf movies, and 60s music playing in the background.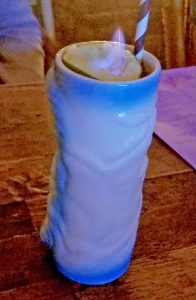 To access the secret dinner, not only did we have to be on the secret mailing list and reserve a spot, our party of four had to apply colored sunblock on our faces before being escorted to the patio.
Absinthe tastings are still on the menu, but my preference has switched to the cocktails, which change with the theme.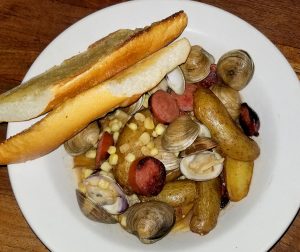 This time, I ordered the Heroes and Villains (named after a Beach Boys song) with sfumato amaro, jack rye, orgeat and lemon ($17), while others in our group ordered California Girls ($16) with cachaça, kings ginger, lime, muddled mint, and kiwi, and Kokomo ($16) with Brinley coconut, velvet falernum, cream, and toasted sesame.
For starters, we shared Ocean Guacamole with nori pesto and shrimp chips ($14) and Frito Misto calamari ($16) with fennel, snap peas, olives and garlic aioli. Both dishes disappeared fast.
For entrees, I stuck with the beach theme and ordered a Clam Bake ($35) with sweet corn, sausage and potato. Other options included lobster roll sliders ($18), chicken sandwich ($26) on Hawaiian milk bread, Fish Tacos ($30) cooked in Baja beer batter, and Island Surf n Turf ($56) with filet, lobster and fries.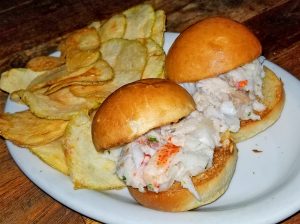 Three desserts were listed on the themed menu including Yuzu lime pie and S'more Tart, but we were too full to indulge.
Held the first weekend of every month, the Secret Dinner Society is skipping a month due to the July 4 holiday, but returns in August with another themed event. Based on the clues we managed to coax out of the staff, we think the next dinner has something to do with Jurassic World—but you didn't hear it from me!
Want to get on the 352 Poppy Secret Dinner Society list? Send an email to [email protected]