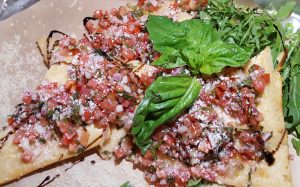 By Christopher Trela & Catherine Del Casale | NB Indy
Sessions West Coast Deli on Balboa Peninsula opened just over two years ago and became almost an instant classic, much like it's wildly popular Summer Zephyr vegetarian sandwich topped with mozzarella cheese.
After connecting with the lunch crowd thanks to truly sensational sandwiches, Sessions made fans even happier with an array of breakfast items (including a Morning Zephyr with smoked bacon and eggs).
Now, Managing Partner Matt Meddock and Culinary Director Max Schlutz have turned their attention to dinner, and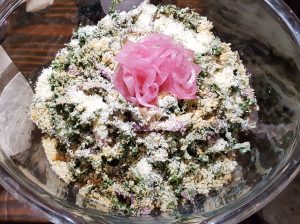 we're glad they did.
As you might expect from the casually cool Sessions, dinner is relaxed yet upgrades the normal order-at-the-counter experience to a waiter-served affair.
The evening menu adds a handful of salads plus new grilled cheese sandwiches and a variety of starters, but perhaps the most notable addition comes courtesy of the restaurant's new liquor license, letting them serve beer and wine. This has allowed Session to add nearly three dozen canned craft beers and a handful of wines to their menu.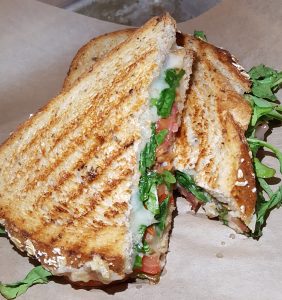 We checked out the Sessions dinner menu this week and are pleased to report that, as we expected, Sessions has hit another culinary home run.
"I love the new dinner experience at Sessions," said Catherine. "The menu features appetizers that will start your night off right, such as Matt's Bruschetta ($5), which is done on large pieces of toasted French bread with diced marinated tomatoes on top, a balsamic drizzle and some parmesan."
"I agree, this is fun bruschetta, but I am impressed with the sweet pea hummus ($7)," said Christopher. "This tastes like they took a handful of sweet peas, blended them and brought them out to us—can't get much fresher tasting than this."
Catherine is not normally a salad girl, but she loved the Thai salad ($10)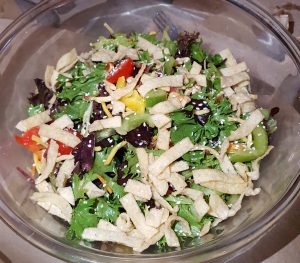 and the Caesar salad ($12).
"Now that we're enjoying the summer months and trying to keep our summer bodies, this is a great time to try one of the Sessions salads, which are huge and enough for two people to share," said Catherine. "I was really impressed with the Caesar, which has shredded kale, purple cabbage, panko, parmesan cheese, picked onion and a housemate dressing. The kale and the panko added a crunch that gave the salad a more dynamic texture."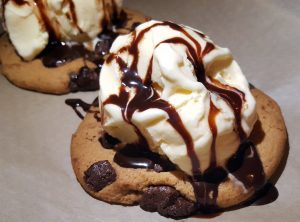 "You enjoy your salads, I'm loving their new grilled cheese selections," said Christopher happily. "The Triple Threat ($7) with provolone, jalapeno jack, Swiss, tomato, and avocado has an instant 'Wow!' factor, but so does the BLT grilled cheese ($7)."
We each had one of the craft beers with dinner, and finished with a warm chocolate chip cookies topped with vanilla ice cream and drizzled with chocolate sauce—not exactly on the menu, but it didn't take much coaxing for the folks at Sessions to create a fun ending to a fun meal.
Sessions opens at 7 a.m. for breakfast and stays open until 9 p.m. for dinner. Visit SessionsWCD.com for more information.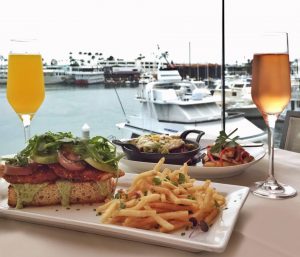 The Winery Uncorks Brunch
The Winery Restaurant & Wine Bar in Newport Beach recently introduced a new Sunday Brunch, although they've been offering special holiday brunches for Easter, Mother's Day and other special occasions.
Christopher took his mother, Virginia, to The Winery for Easter and Mother's Day, and now she won't go anywhere else ("They have the best salmon in town," she says).
Executive Chef Yvon Goetz has created a fun and hearty brunch menu that offers his unique twists on traditional brunch items. For example, his Zinfandel braised beef shortrib hash & fried eggs with duck fat-roasted fingerling potatoes and roasted cauliflower is a thing of beauty, while the almond croissant crème brulee French toast with fresh berries, applewood smoked bacon and a berry-zinfandel syrup is pure culinary decadence.
Christopher recently attended a media event to sample the brunch menu, and was reminded once again why The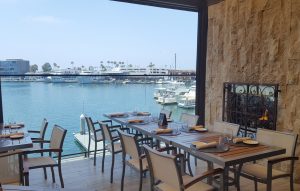 Winery is one of the best dining experiences in town: terrific and creative cuisine, served in a refined yet non-stuffy setting with views of Newport Harbor from almost every seat.
"We change the brunch menu every week," said Chef Yvon. "We get new items in every week."
At the brunch, we sampled deviled eggs, heirloom tomatoes, gazpacho, eggs benedict, shortrib hash, and croissant French toast—just a few of the dishes Chef Yvon concocts for brunch, which is available every Sunday from 11 a.m. to 2 p.m.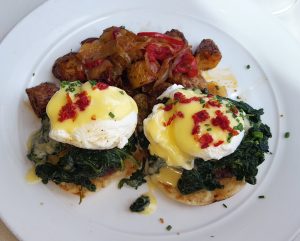 Other items on the brunch menu include starters such as local heirloom tomato salad, steamed mussels and clams, white shrimp & crispy bacon deviled eggs, and YG's Alsatian smoked salmon flatbread.
Entrees include The Winery Eggs Benedicts with choice of crispy pork belly, lump crab or smoked salmon, grilled New Zealand lamb chops, and wild white shrimp risotto.
The two-course brunch is $39.95.
The Winery founder and managing partner JC Clow mentioned during the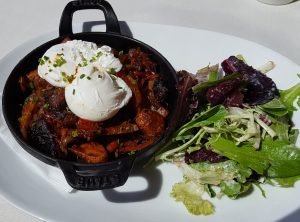 media tasting that they are looking at La Jolla as a possible new location for the third Winery Restaurant (the original Winery Restaurant is in Tustin).
"We're excited about the opportunity, although it's not a done deal yet," said Clow. "We  will be neighbors with Javier's restaurant and several others. We'll see what happens, but it looks promising."
For more information on The Winery Newport, visit TheWineryNewport.com.