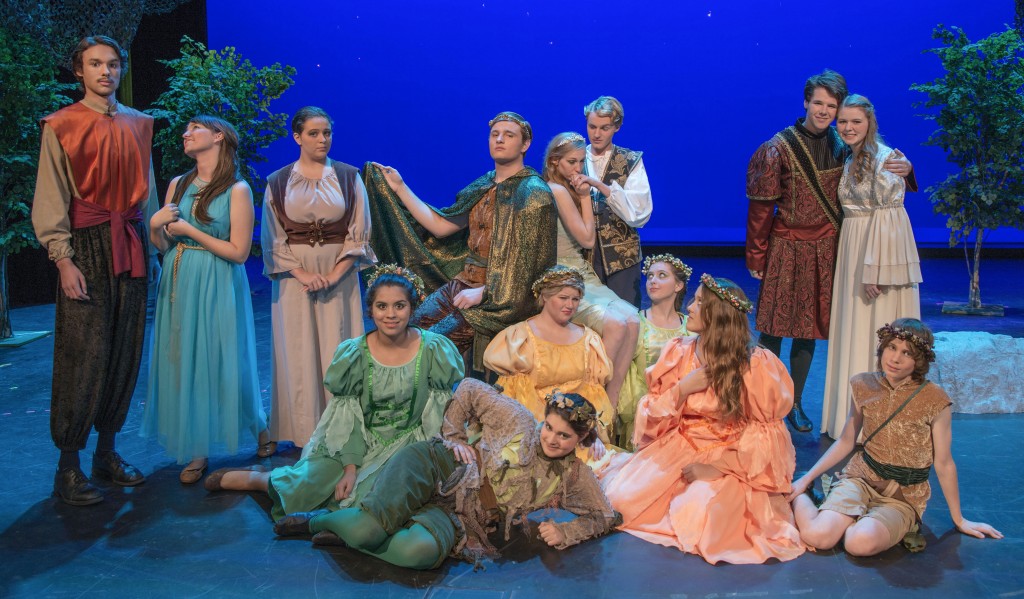 For a small taste of three different shows from the most famous playwright in the world, check out Newport Harbor High School's "Shakespeare by the Harbor" production this week.
The performance will feature a selection of scenes from "A Midsummer Night's Dream," "Romeo and Juliet" and "As You Like It."
"It basically tells you a little bit about each of the stories," said NHHS drama teacher and show director, Amy Poe.
"People who think they might not like Shakespeare, I think they will," added junior Austin Christensen, 16. "You don't have to sit through one long performance, you get to see glimpses of each story."
It's fun for a person who wants a bit of culture and wants to learn a bit about Shakespeare, said sophomore Chris Surridge, 16.
"It's like a little glimpse of Shakespeare," he said. "It's kind of like a beginner's guide… And it's not very overwhelming."
They are simple, short and fun, he said.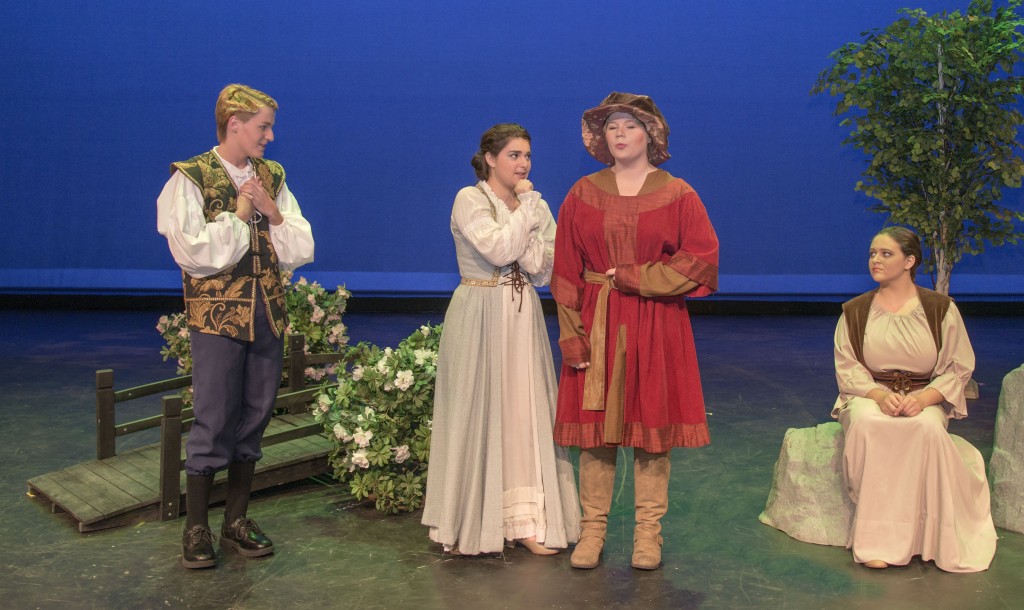 "It gives the audience three different tastes of Shakespeare," noted sophomore Serafina Busa, 15.
The group has been rehearsing for nearly two months. The hardest part for many was grasping the Shakespeare language. Poe had them go through the scenes and paraphrase each line into their own words so they would better understand what they were saying and why.
"That seemed to really help," Poe said. "They worked really, really hard to get the language. I'm really proud of them. It was a complete transformation from the beginning of rehearsal until now. They understand exactly what they're saying."
It was an interesting process to watch, she said. And they really grew actors, she said.
"If you can act Shakespeare, you can act anything," Poe said. "Shakespeare is one of the most difficult playwrights to grasp."
It was very difficult, all three students agreed.
"Shakespeare is like learning a whole new language," Christensen said. "You don't just learn what the words are, you have to learn the flow of it."
They really focused on how to get their message across to the audience, Christensen explained, by emotionally expressing themselves.
It was also a challenge to do scenes from three plays because that required the young actors to play multiple roles.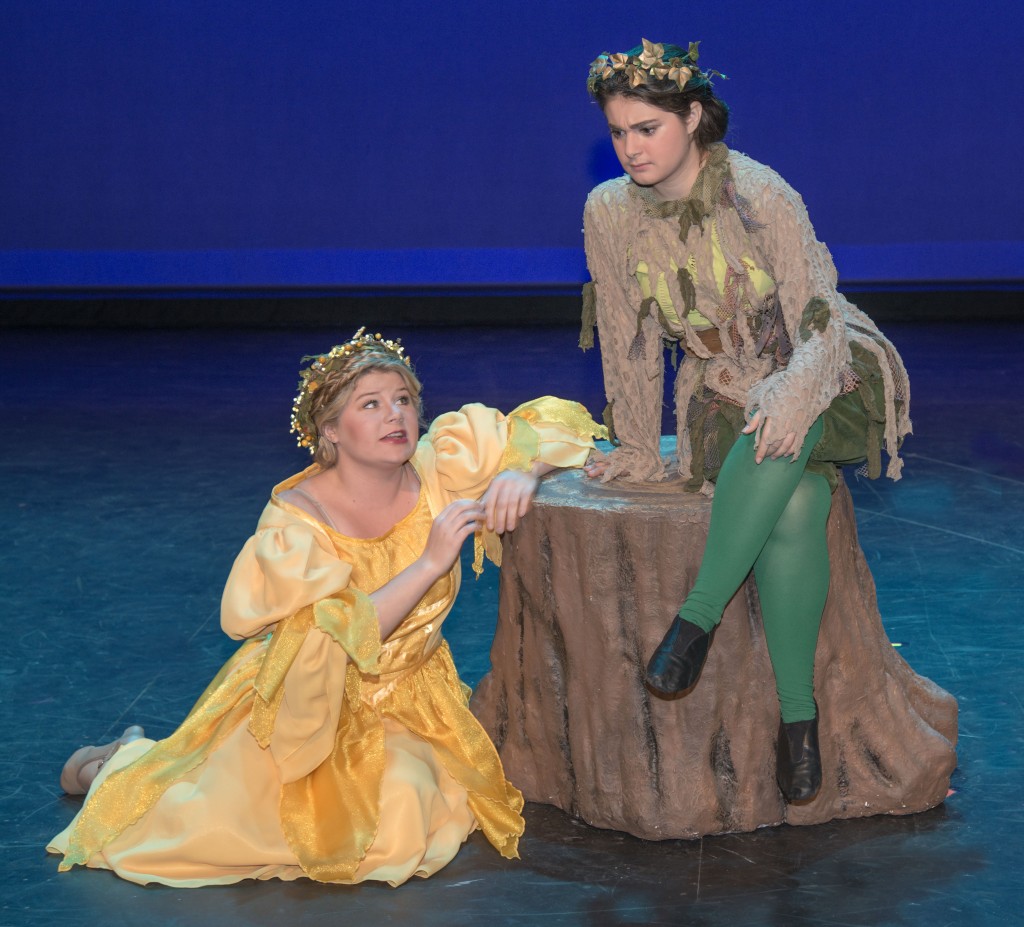 Christensen plays Oberon in "Midsummer" and Capulet in "Romeo and Juliet."
"They are very different people," said Christensen, adding that he has to be careful to keep the two personalities separate. "But it is very fun… It's a great experience. It's helped me grow."
He learned how to balance the two characters.
Busa plays Celia in "As You Like It" and the nurse in "Romeo and Juliet."
As Celia, she's agreeable, conservative and quiet.
As the nurse, she is friendly and motherly, but more likely to speak up.
It's a very unique experience to play two different characters, she said.
Surridge plays Bottom in "Midsummer," a role he also  played in fifth grade at an elementary school production.
"This was fun to go back and reflect upon my performance then and how I wanted to change it now," he said.
He has performed in many outside and school productions since then.
Shakespeare is so fun to do because it's quirky, in a sense, and so original," Surridge said.
He also plays Silvius in "As You Like It."
"They are two different personalities," he said, which is fun.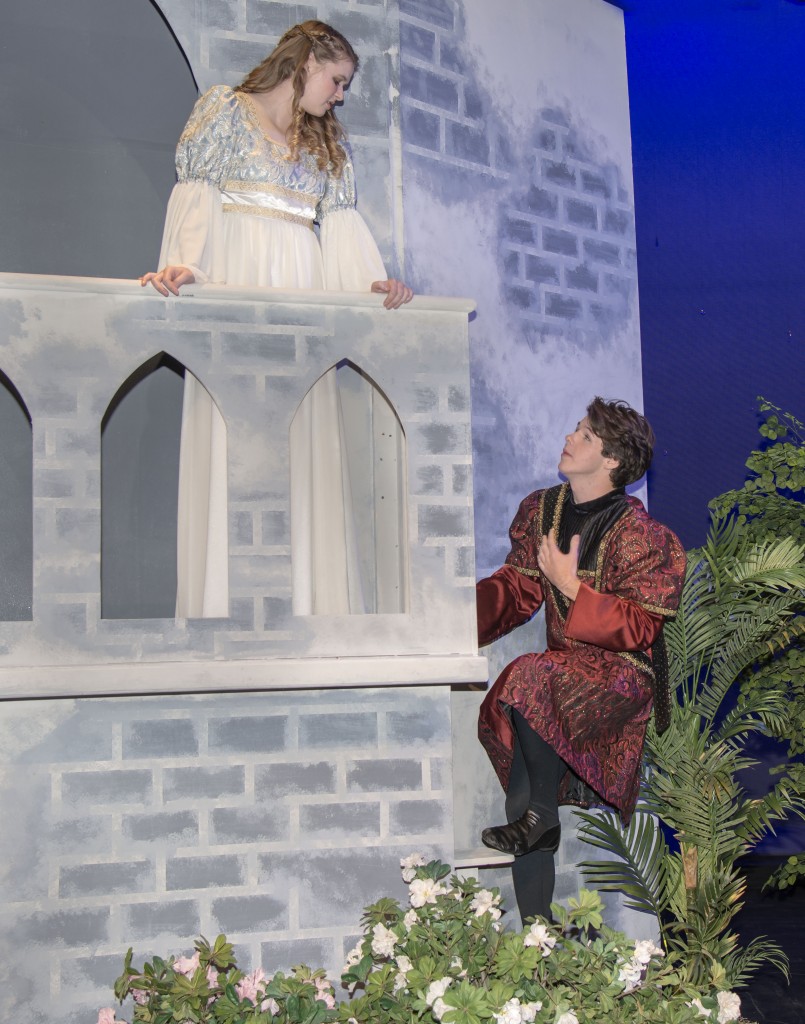 Senior Claire McCarthy, 17, plays Juliet, opposite fellow senior Cody Call, 18,  as Romeo.
As one of the few students who only have one role to focus on, McCarthy said she gets to take time in between her scenes to enjoy the other two shows, which are completely produced by students.
"We're really excited about this particular show because the students did an amazing job designing the sets, costumes, props, makeup, hair, sound, lighting," Poe said. "We're really excited to show what our talented students have done."
They also designed the artwork on the programs and tickets, she added.
"I'm really impressed with everything they've done," she added.
It's fun being self-sufficient and getting the whole school involved with the production, Surridge added.
"It allowed everyone to contribute their own little piece," Busa added.
There are about 35 students involved with the show.
"You get so many different opinions coming in and out," McCarthy said. "It's really interesting and fun… We're like one big weird family."
Shows are: Nov. 20-22 at 7 p.m., with a matinee on Nov. 22 at 2 p.m., at the Robert B. Wentz Theater.
Tickets are $5 for students and $10 for adults.
Tickets available at the box office or in advance online at nhhsdrama.com.