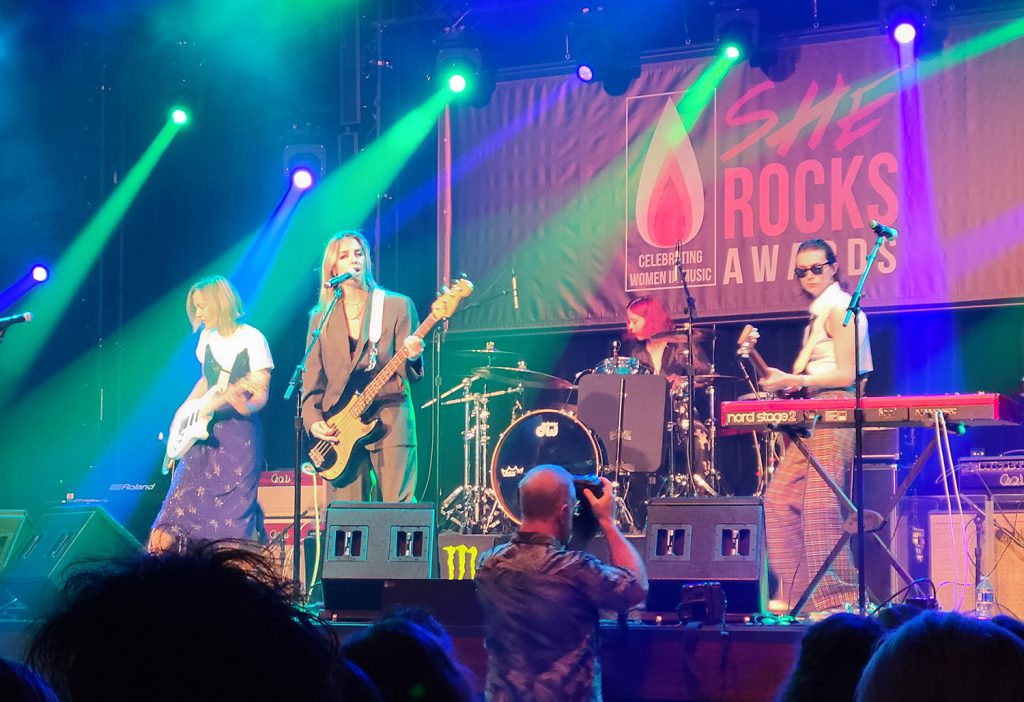 By Simone Goldstone | NB Indy Soundcheck Columnist
Girls rock. We all know this. From Joan Jett to Joan Baez, women in music have made melodies that outlast time, changed the social order, and pushed the boundaries of music.
The She Rocks Awards – Founded in 2012 by the Women's International Music Network and part of the NAMM Show that took place at the Anaheim convention Center April 13-15 – is dedicated to honoring women in the music industry for their grit and innovation as we diversify a discipline largely run by men and shine a spotlight on the special ladies who make things happen.
The 2023 She Rocks Awards was held at Anaheim's The Ranch on April 13. Among the honorees was legendary Judy Collins, who captured the hearts and ears of the world with her crystalline voice as she sang folk-tunes such as "Thirsty Boots," covered Joni Mitchell's "Both Sides Now," and immortalized Sondheim's musical "A Little Night Music" with the song "Send in the Clowns." Having inspired songs like "Judy Blue Eyes," Collins is both the music and the muse.
The night opened with girl band Beaches. Their guitarist, clad in a 90s-style dainty dress and tee-shirt combo strummed out power chords as the lead singer belted out feel-good powerful tunes ablaze with edge, feminine energy. The oversized blazer of the singer and bowtie-Ray Bans-combo of the keyboardist represented the perfect contradiction of girl power and androgyny. The Toronto-based girl group played with practiced finesse and technical perfection.
Honorees of the night included two-time Grammy nominee Shelly Peiken, who wrote songs such as "What a Girl Wants." Peiken told us all not to be afraid of getting older, for in age we find out the things we're good at. "It's truly an honor to be in the company of giants past, present, and future," Peiken said.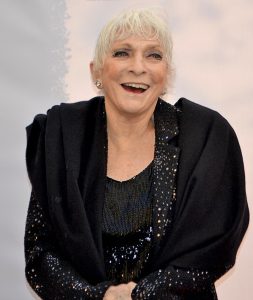 When Judy Collins took to the podium for the Legend Award, she opened with a funny story about Mae West in a fur coat, quoting "Restraint is fine if it doesn't go too far." After lots of laughter, she started to sing "Amazing Grace," asking us to all sing with her. Her blue eyes twinkling, she smiled down at the audience from the stage, saying "Now you can all say you sang back-up for Judy Collins."
Noelle Scaggs of Fitz & the Tantrums took home the Powerhouse Award for her organization Diversify the Stage. Ever so humble and gracious, Scaggs said "It's important that young people see their reflections in this industry, to have people who share their identities, who have a familiar journey, this is what the DTS mission is, ensuring no human will ever feel dis-included in this space, because they see their reflections, in front and behind the scenes."
Drummer Katherine Wing was also honored for her work both in corporate America, where she works in marketing at Roland, and her work drumming, as she balances her job with touring and recording. She graced us with a techno-sounding song brought to life by her drum lines- the only instrument except for the backing track, hypnotizing us all.
Stacy Ryan, CEO of School of Rock, took home the Champion Award. Introducing an all-female ensemble of teenagers who sang "Free Your Mind," the young girls reminded us of why we're doing this: so they can have the futures they want with less obstacles standing in their way simply because of their gender.
Gretchen Menn, the guitarist of a Led Zeppelin tribute band, Zepparella, won the Inspire Award. She ended the night with a stellar version of Led Zeppelin's song "Rock and Roll." Menn's talent on guitar was unmatched and a treat to see in person.
Women have been the music makers for centuries. Was it not the songs of sirens that called to sailors? Was it not mother's lullabies that rocked babies to sleep?
Women have been an integral source and driving factor of music since the start of time, however the industry boom that followed recording and production fell into the male-dominated societal ideals and order, which led to women getting cast aside in the music business.
For every woman who works in the industry, there are four men. From A&R to audio technicians, men dominate the music discipline, but where would they be without the wonderful women behind them who work tirelessly and discreetly? We should honor the women in music all the time, not just on the night of the She Rocks Awards. One day, we'll get there, but for now a huge thanks to the Women's International Music Network for an unforgettable night.
For more information, visit https://www.namm.org/thenammshow/2023/session/she-rocks-awards.