What does it take for a band to bond? In the case of Side Deal, it was a patch of black ice.
The Newport Beach-based band was in Park City, Utah for the Sundance Film Festival. They were driving to a morning gig in a rented car, and it was snowing.
"We were coming down a steep grade and hit a patch of black ice," recalled band member Joel Owen. "We started sliding toward the railing that keeps you from going down the hill. We slammed into the railing and survived. That's when we became a band. We thought something's going on here."
"We were on our way to play a women's rally in front of a thousand people in the snow," added Stan Frazier, Side Deal drummer. "Jane Fonda and Gloria Allred were there. We played two songs. It was triumphant."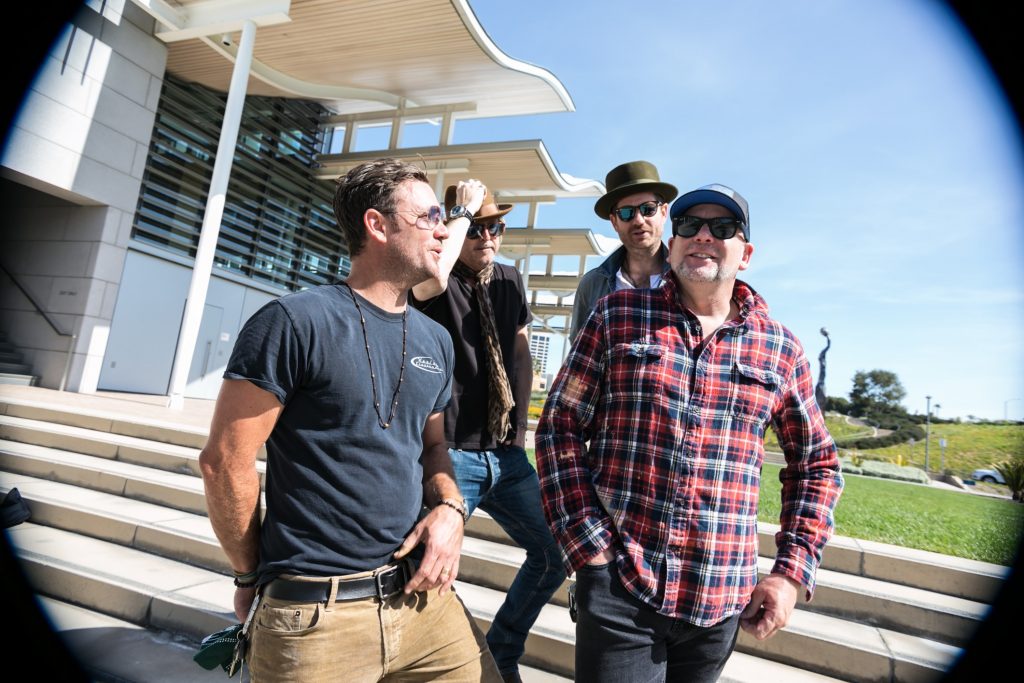 Side Deal makes a triumphant return to the Newport Beach Film Festival when the band performs during the opening night gala party on April 26 in Fashion Island. It's a coveted gig, but the band members are no strangers to high-profile events thanks to their illustrious past association with famous bands.
Side Deal consists of drummer Stan Frazier (Sugar Ray), bassist Charlie Colin (Train), and guitarists Joel and Scott Owen (PawnShop kings). They all grew up in Newport Beach (Colin attended Newport Harbor High, the other three went to CdM High), had noted music careers, and now are having the time of their life as members of Side Deal.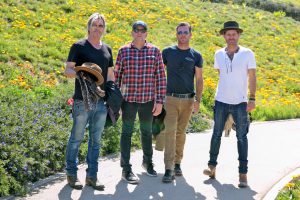 The guys have known each other for more than 20 years, but never played music together until one night in 2016 when Charlie called Stan to come down and jam with him at the Lido Theater when his new band, Painbirds, was performing with Skunk Baxter (The Doobie Brothers, Steely Dan). Stan invited Scott and Joel to the gig, and the next thing you know, a new band was formed.
As their website notes, Side Deal exists not only to reshape and play the hits from the former projects alongside all new originals, but to maintain an ever-revolving door of friends from bands loved around the world to join in on the fun.
Locals were treated to the sounds of Side Deal at the 2017 Newport Beach Film Festival, when they were the featured band at the opening night gala party.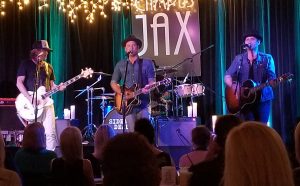 Since that gig, Side Deal has performed at private parties, charity events, Sundance Film Festival, The Coach House, and most recently Campus Jax, where they debuted new material that will appear on a forthcoming album.
For their encore appearance at the film festival gala, Colin and Frazier (who also serve as musical directors for the film festival) said they will have some surprise guests on stage with them, and they'll perform a mix of new songs and familiar hits of their previous bands.
"We do our own covers," said Frazier, "but we're excited about the new material. We'd like to release the album before we play the Irvine Barclay Theatre in August. That is our short term goal. Beyond that, we don't know."
We're taking it as it comes," said Joel Owen. "This is happening outside of us. It feels external, divine."
For more information on Side Deal, visit https://www.sidedealmusic.com/ 
The Newport Beach Film Festival starts Thursday night, April 26, with "American Animals" as the opening night film, screening at Edwards Big Newport in Newport Center, followed by a gala reception at Fashion Island presented by Pacific Sales and sponsored in part by Tito's Vodka, Fashion Island, Karma Automotives and the City of Newport Beach.
The gala will feature culinary tastings from 30 local restaurants as well as a performance by Side Deal and Academy of Villains dance company.
Tickets to the Opening Night screening and gala are $225 each and are available at NewportBeachFilmFest.com. Patrons can also purchase tickets to the Opening Night gala only for $175 each. Guests must be at least 21 years old.
The Newport Beach Film Festival will showcase more than 350 films from 50 countries and host nightly special events, red carpet galas, compelling conversations with filmmakers, international spotlight events and seminars. The Festival offers filmgoers unique opportunities to mingle with celebrities, filmmakers from around the globe and film industry professionals.