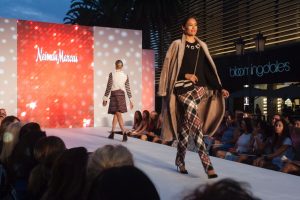 Style Week OC is returning to Fashion Island Sept. 15-17, and based on the info I've received, it sounds bigger and better than ever!
Between runway shows, in-store parties, and meet and greet events with style bloggers, this is a Style Week that's sure to please any fashion fan.
Style Week OC starts off on Thursday, Sept. 15 with a Neiman Marcus runway show at 6:30 p.m. featuring fall trends from top designer brands. The seating area around the runway is a private ticketed event to benefit Hoag Hospital, but the public can view the event in the common area surrounding the runway.
In-store parties that evening will be held at Brooks Brothers, G-Star, Gary's, Michael Stars, and Vineyard Vines.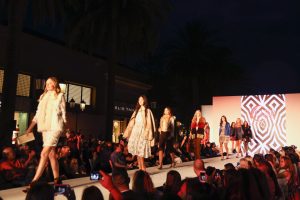 The Fashion Island Fall Runway Show on Sept. 16 at 6:30 p.m. features seasonal styles from Anthropologie, Bloomingdale's, Nordstrom, Rebecca Taylor, Trina Turk, Elie Tahari, and Halston Heritage.
The runway show will be open to the public with seating available on a first-come, first-served basis. After the show, top style bloggers and influencers will be attending special in-store parties, including "Carrie Bradshaw Lied" at Rebecca Taylor, "The Style Riot" at Anthropologie, "Lyndi in the City" at Halston Heritage, "My Style Diaries" at Trina Turk, and Devon Rachel at Elie Tahari.
On Saturday, Sept. 17, Fashion Island shoppers can enjoy more in-store parties and promotions at Modern Romance, SEE Eyewear, Vince Camuto, and Joie.
For more information, visit StyleWeekOC.com.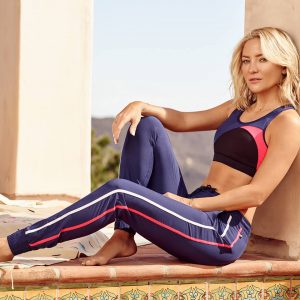 Fabulous Fabletics      
Fabletics, the stylish activewear brand co-founded by actress Kate Hudson has now opened its first OC brick and mortar store, and although it's located south of Newport Beach at The Shops in Mission Viejo, it's well worth the drive.
I find activewear goes into the same category as shopping for bathing suits and jeans: you have to find the right fit and it's almost painful to try things on.
Fabletics began its journey as an online store in late 2013 wanting to provide fashion forward, high quality activewear and an accessible price point. As someone who struggles to go to the gym and has had the same workout wear for the past six years, seeing what Fabletics had to offer always piqued my interest but I was wary of ordering without seeing how things fit.
When I learned that Fabletics was opening a brick and mortar location in our own backyard I was thrilled. I could finally try on the brand and see if it was right for me and not just the already fit models.
Upon browsing the store, I was pleasantly surprised to find clothes that flattered all shapes and sizes. Women were modeling their choices to friends and family in the large changing area at the back of the store. The designs don't cling to unflattering places and the leggings help keep everything in place. My personal favorites were the cosmic designs inspired by the solar system. Many designs are limited editions and sell out within a few days.
After working out in my new Fabletics outfits, I found that the materials let my body breath and I didn't look like I had just stepped out of the shower.
Fabletics offers a VIP membership that involves signing up for a monthly charge of $49.95, which means you receive 50 percent off all items, reward points towards free loyalty items, and free shipping. With outfits starting at just $25 it's an amazing deal, but you don't have to become a VIP member to shop at Fabletics.
As a VIP member, you can skip a month and not be charged, or if your credit card is charged the monthly fee and you don't shop, that charge can be used as a credit to spend or save.
A common question from shoppers when I was at the store: "Do you have sports bras with extra support." The answer is yes! They have three different levels of support and great designs in each. I ended up purchasing a great zip up option that is easy to get on and off, which comes in handy when your arms no longer work after a weight training session.
The store also has a small section of mens activewear if your husband, son or friend is looking to spruce up his look.
This Labor Day weekend, Fabletics is offering new VIP customers their first outfit for only $15.
For more information on Fabletics, visit  Fabletics.com.