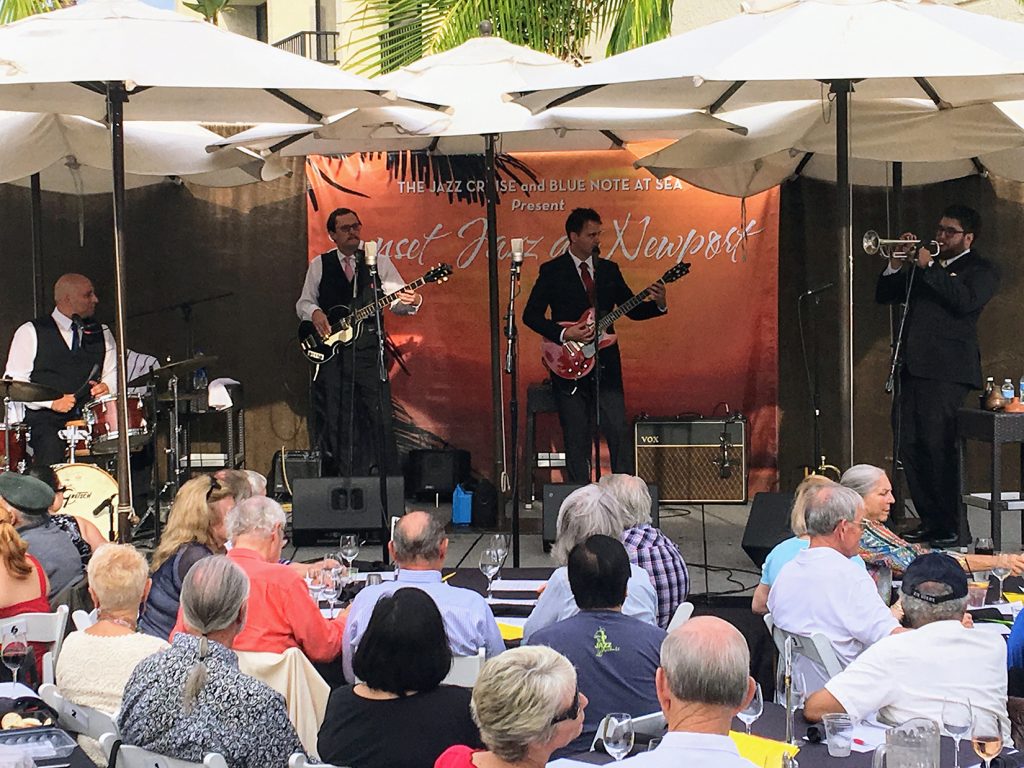 Have you made it out to the Newport Beach Marriott Hotel & Spa to catch one of the sensational Sunset Jazz at Newport summer concerts?
The series runs through Sept. 19, which means there are only five evenings of swinging jazz left in this annual musical ode to classic jazz.
Held every Wednesday evening in the Marriott's lovely Rose Garden (and in the Seaview Terrace on Aug. 22), Sunset Jazz at Newport features a variety of jazz ensembles and vocalists, many of whom are the most popular artists from the Newport Beach Jazz Party and The Jazz Cruise.
Each concert features two sets, with the first starting at 6 p.m. and the second at 7:30 p.m. Both sets are included in the price of each ticket.
Doors open at 5 p.m. with table service featuring food and beverages ($25 corkage if you bring your own wine).
The stage is set up at one end of the garden, with numerous tables scattered throughout the garden so that there really isn't a bad seat in the house, and the sound system is excellent.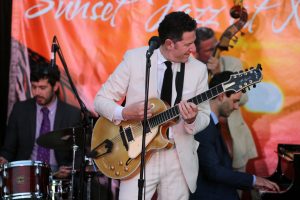 The 2018 Sunset Jazz at Newport continues on Wednesday, Aug. 22 with the John Pizzarelli Trio. Making his sixth return to Sunset Jazz at Newport, John has enjoyed a three decade career as a jazz guitarist, vocalist and songwriter.
He was hailed by the Boston Globe for "reinvigorating the Great American Songbook and re-popularizing jazz." The Seattle Times called him "a rare entertainer of the old school."
I've seen John perform and have to agree he's fun to watch, musically expressive and thoroughly enjoyable.
On Aug. 29, Wednesday, August 29, prepare to be dazzled by Byron Stripling and the Bobby Floyd Quartet in a show they call Have Trumpet, Will Swing. According to his bio, Byron is a spectacular trumpeter with a very wide range, a beautiful tone, and the ability to blend together many influences into his own style. He's Artistic Director of the Columbus Jazz Orchestra, leader of his own quartet, and constantly in demand to play with pops orchestras around the world. Byron was selected to play the lead in the touring musical "Satchmo: America's Musical Legend."
Joining Byron in his eighth summer jazz performance is jazz organist Bobby Floyd, who is a featured player on Byron's latest CD.
On Sept. 5 it's an evening with Billy Mitchell and his eight-piece band, with guest vocalist Bili Redd. Billy appeared in Clint Eastwood's film, "Bird," and also in "Jazz," an award-winning docudrama. He is currently performing with the Los Angeles Jazz Orchestra Unlimited under the direction of legendary jazz guitarist, Kenny Burrell, Dr. Bobby Rodroguez and Charlie Harrison. Bili Redd is an arranger, composer, lyricist, bassist and vocalist. A two-time Grammy Award winner, Bili has worked with Quincy Jones, Sarah Vaughn and George Benson.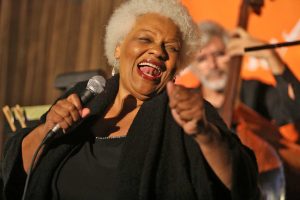 Barbara Morrison makes her annual Birthday appearance on Sept. 12 (her actual birthday is Sept. 10). Celebrating her special day has become a tradition at Sunset Jazz at Newport. She is indeed a fan favorite, and an interpreter of Jazz, Blues, Gospel and Pop songs. Joining Barbara will be saxophonist Rickey Woodard, another fan favorite. Returning to help Barbara celebrate will be all-stars Stu Elster on piano, Richard Simon on bass and drummer Clayton Cameron.
Closing out the Sunset Jazz at Newport season on Sept. 19 is the Tom Kubis Big Band with a show called "Live and Unleashed." Tom's band consists of 17 of LA's best jazz musicians, conducted by composer/arranger Tom Kubis.
Individual seats: $28 General; $46 Blue; $57 for each Wednesday except John Pizzarelli Trio and The Tom Kubis Big Band: $37/49/59.
Tickets are available by calling (949) 759-5003, or by going to sunsetjazzatnewport.com.
Hotel reservations at the special Sunset Jazz at Newport rate are being offered at $166 standard/$189 ocean view. Self-parking $10 for each Wednesday and $15 overnight.
Visit sunsetjazzatnewport.com