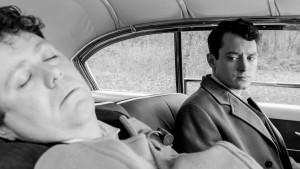 If your only knowledge of the Welsh poet Dylan Thomas comes from the "Dylan-Dylan Challenge" in the movie "Dangerous Minds," then you are missing out on the captivating story of man burdened with a love of excess and gifted with not only a penchant for lyrical prose, but also with an ability to live life full-bore, regardless of the consequences.
Long before Michelle Pfeiffer asked her onscreen inner-city students to make a symbolic connection between the prose of the famed poet and the lyrics of American musician Bob Dylan, a professor by the name of John Malcolm Brinnin attempted to make his own Dylan connection when he brought the Welshman across the pond on his first American recitation tour.
The film, "Set Fire to the Stars," examines that fateful tour, and how a brief interaction with the poet would change Brinnin's outlook on the art form he so loved, as well as the man he admired.
The film is partially based on Brinnin's 1956 book, "Dylan Thomas in America." Presented more as a snapshot than a biopic, viewers will join Thomas and Brinnin on a wild, alcohol fueled, week-long look at the mind of a man at once both troubled and brilliant.
Early on, Brinnin, portrayed by actor Elijah Wood, wonders how much trouble one poet can be, and he discovers that the answer is, perhaps, a little more than he bargained for. Hoping to meet his literary idol, and learn from he master, while ferrying him to various engagements, the academic Brinnin finds instead, a man at once inspiring and infuriating, transcendent and humiliating.
After a debaucherous night in New York City, Brinnin spirits Thomas away to a remote cabin, in an attempt at a bit of a detox before he is set to appear in front of a group of Ivy League big wigs at Yale.
What follows is a study in the dichotomy of an individual who while embracing the fleeting nature of life, is also clearly troubled by an inability to cast out his demons.
While Brinnin is interested in all the hows and whys that make up Thomas' poetry, the poet himself fears analyzing it all too much, allowing the words instead to just be what they are. In his seemingly compulsive drive to partake in all of life's pleasures, one can almost see a bit of a foreknowledge that his life would burn hot and fast, ending just a few short years hence, at the age of 39.
In what I found to be one of the most poignant scenes in the film, Thomas tells the academic Brinnin that perhaps rather than opening a book, he should instead open a window – living life, instead of trying to learn about it.
Shot in only 18 days, and presented completely in black and white, the film has a beautiful art-house feel that perfectly complements Celyn Jones' brilliant portrayal of the mercurial Thomas.
Presented by the UK production company, Mad as Birds Films, the film was entirely written, directed, and produced by their own in-house team, and is the company's first feature-length offering.
"Set Fire to the Stars," which screens at The Triangle at 7:30 p.m. on Friday, April 24, is also the festival's UK Spotlight film, and filmgoers are invited to join in a special post-screening UK Celebration to be held at SOCO in Costa Mesa.
Hosted by Orange Coast Magazine, and Screen International, the celebration will feature a hosted bar (courtesy of Tito's Vodka, Remy Cointreau and Stella Artois), as well as entertainment, and hors d'oeuvres prepared by local restaurants. Tickets to both the film screening and the after party can be purchased for $65 per person, and are also available for just the celebration at the cost of $45 each. The event is for guests age 21 and over, and cocktail attire, as well as a coat, is recommended.
For more information, or to purchase tickets, please visit NewportBeachFilmFest.com.
Edie Crabtree is an avid reader, and the mother of three active boys. She can be reached at [email protected].