By Christopher Trela & Catherine Del Casale | NB Indy
Nothing better than dinner and a show, but with multiple theaters screening hundreds of films during the Newport Beach Film Festival, dining choices abound at nearby restaurants.
We've picked a handful of restaurants within walking distance of the Festival theaters that we recommend for cuisine, convenience or speed.
For the restaurants in Newport Beach, visit DineNB.com for information. For restaurants in Costa Mesa, you can try OpenTable.com.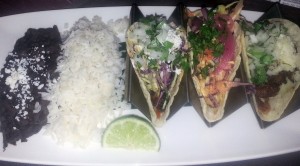 Big Newport
The closest restaurant to the Big Newport theaters is Muldoon's Irish Pub, which coincidentally is hosting a Spotlight party Sunday night. We love Muldoon's—the food is authentic, the service prompt and the staff fun. But our other favorite is right across the street: Red O, where we dined before seeing the opening night film. We love their warm chips and guacamole, and the short dib enchiladas, but have been more and more impressed with the menu every time we dine there.
Next door is Fig & Olive, which hosted a Corona del Mar Chamber of Commerce luncheon this week with Film Festival CEO Gregg Schwenk as guest speaker. Catherine recently attended a spring menu tasting here, and raved about the food.
Other restaurants within walking distance: Cucina Enoteca (fun ambiance, great food, reasonable prices especially on wine), Fleming's Steak House, Roy's, and True Food Kitchen (healthy food that tastes decadent).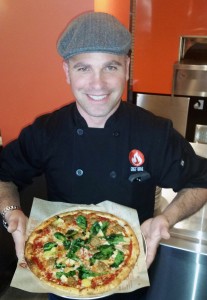 Island Cinemas
Within a few feet of Island Cinemas are several terrific dining options. Our favorite is Blaze Fast Fire'd Pizza, which is indeed fast. Choose your toppings, and the pizza is ready two minutes later. We also like Lemonade and its seemingly endless array of items. Other options nearby: Great Maple (with a truly great hamburger), Canaletto, and R+D Kitchen. And of course, there's always the food court with multiple choices (including Wahoo's).
Lido Live
A few feet from Lido Live is Woody's Diner, with classic American food (and breakfast served all day). Down the street is one of Newport's best French restaurants, Pescadou Bistro, a cozy and romantic hideaway. Also within a few minutes walk: The Cannery, Bluewater Grill, Newport Beach Brewing Company, El Ranchito, Sabatino's and Sessions.
The Triangle
La Vida Cantina is the perfect spot for happy hour, or any hour. Good Mexican food and libations. There's also Olive Branch Pizza and Black Knight Gastro Lounge, as well as the old standby, Yardhouse, but we love the food at Tavern + Bowl, an upscale bowling alley with a really terrify gourmet menu.
Regency South Coast Village
Options abound near this theater, including Antonello (a longtime Italian staple), Darya Persian cuisine, Royal Khyber Fine Indian Cuisine, and Morton's, but across the street in South Coast Plaza, take your pick from more than a dozen restaurants of various styles and prices.