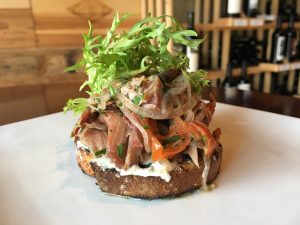 By Christopher Trela & Catherine Del Casale | NB Indy
 Juliette Kitchen & Bar on Bristol Street has introduced a Social Hour menu offered Monday through Friday from 3 to 6 p.m., so we figured it was our duty to go check it out, especially since it had been several years since we'd had a chance to dine there.
Our timing was perfect—we were invited to a media tasting to sample the new Social Hour menu last Tuesday before attending the new play "Destiny of Desire" at South Coast Repertory.
The menu features a variety of cheese and charcuterie, small plates such as steak tartar ($14) with capers, gooseberries, shallots,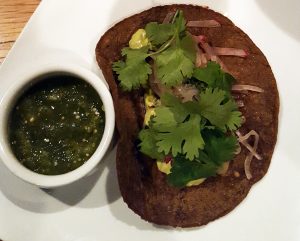 chives, radish, olive oil, sea salt, petite hearts on fire, quail egg, and goat cheese crackers, grilled fish tacos ($10) with black garlic tortillas, duck confit toast ($8) with ginger crème fraiche, dried tomatoes, frisee, and pickled shallots, albacore toast ($9) with seared albacore, radish, scallion, shiso, daikon sprouts, and togarashi aioli, burgers, French fries, and a house salad.
There are also several house cocktails for $8, including Rose 75: orange moon, lavender bitters, St. Germain, and gruven vodka.
"I think my favorite cocktail was the Rose 75," said Catherine. "It's light, sweet and has a unique taste to it with no one flavor overwhelming the other. They are also offering some great bites that you don't normal find on a social hour menu such as steak tartar and duck confit toast. I really enjoyed the grilled fish tacos which come plated with two tacos. Love the black garlic tortillas."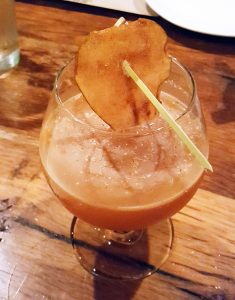 "I'm partial to the duck confit toast," said Christopher. "It's original, with a nice combination of flavors and textures. I also like the Pear Creek cocktail ($14) from the regular cocktail list, it's a nice blend Knob Creek whiskey, pear, lemon, angostura, sage, and St. Germaine."
For information on Juliette, visit Juliettenb.com.
We left Juliette and made our way to South Coast Rep in plenty of time to find our seats and peruse the program.
"Destiny of Desire" is billed as a Telenovela-inspired comedy, although it has its share of dramatic moments. The story follows two baby girls who are born—one to poverty, one to privilege—and then secretly switched by a scheming former beauty queen. Eighteen years later, the girls meet when they are brought together by misfortune—or it is destiny? Forbidden love, revenge, infidelity and burning passion make "Destiny of Desire" a cross between a soap opera and a Shakespearean comedy of errors and mistaken identity.
"Destiny of Desire is a fresh, joyful and fun comedy—with exciting twists and turns—about what happens when women take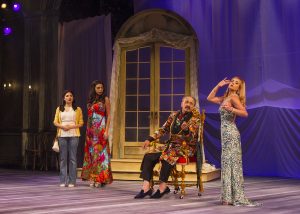 destiny into their own hands," said director
José Luis Valenzuela. "It's a funny, wild and romantic ride, so the audience has a great deal of fun. Karen (Zacarías, the playwright) uses the social dynamics and framework of the telenovela, but then she plays with its mode of storytelling and the archetypes."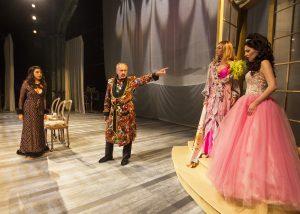 "I'm amazed at how well the play worked in a two-hour time frame, since most telenovelas take six months to a year to fully develop all the dramas," said Catherine. "You won't be disappointed by a lack of drama as it has all the facets of a telenovela series from switched at birth daughters to interfamilial affairs and mistaken identity.
If you are looking for something a little different, a lot of fun, and drama to boot, you should check this play out."
"I agree—it's very theatrical and stylized, the staging is fun and different, and overall it's a fun two-hour ride," said Christopher.
For tickets to "Destiny of Desire," which runs through Nov.13, visit SCR.org.