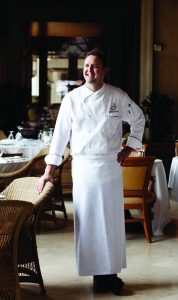 By Christopher Trela & Catherine Del Casale | NB Indy
 We recently spent an amazing afternoon dining along the Italian seaside, and never had to leave Newport Beach.
Last Friday, we were invited to have lunch at Pelican Hill Resort's Andrea Restaurant and chat with new Andrea chef Jonah Amodt, who spent two years as Andrea's sous chef before assuming the role of chef just two months ago.
We've often extolled the virtues of Andrea – superb cuisine served by an expert staff in a setting reminiscent of a Mediterranean resort with a view overlooking Pelican Hill's golf course and the Pacific Ocean – and were excited to see what Chef Jonah was doing with the menu.
"We just did a fall menu and changed about 80 percent to be more fall focused," Chef Jonah told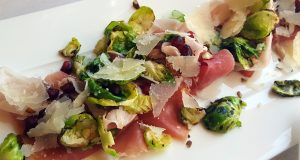 us. "The conversation we have been having is balance. Sweeter ingredients like butternut squash or sage can be more pungent at times. We're still focused on local ingredients with an Italian thought process, so still getting beautiful ingredients including white truffles. We want to showcase fall ingredients—that's what we're here to do. If it's butternut squash, it tastes like butternut squash. If it's sage, it tastes like sage. It's fun with food, that's the focus. We want to make sure we are putting our best foot forward and stay true to the ingredients."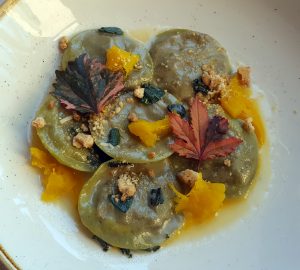 Naturally, we wondered what was Chef Jonah's favorite new fall dish.
"The oxtail ravioli," he said without hesitation. "It's full of fall flavors. We use a sage crumble, candied pumpkin, beautiful hibiscus leaves, sage dough infused with sage puree, oxtail braised in own juices. There are continual layers of flavor. I cook things I like to eat, and I was salivating just thinking about the dish."
"So are we," laughed Christopher as Chef Jonah returned to the kitchen to prepare lunch for us.
We shared six dishes to give us an idea of what Chef Jonah and his kitchen staff were creating for fall, with wines paired with each course. They included prosciutto and grilled brussels sprout leaves with pecorino, pomegranate and smoked almonds, reginette pasta with wild mushroom ragout marsala and marjoram, the oxtail ravioli, and dishes with wild salmon and grilled branzino.
"My new favorite salad is the prosciutto and grilled brussels sprout leaves, which has a prominent smoky taste that is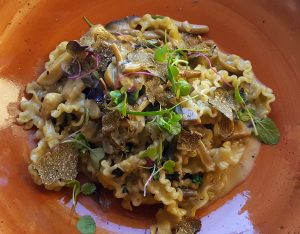 complimented by the salt in the pecorino and sweet tartness of the pomegranate," said Catherine. "The smoked almonds allow for a nice addition to the other textures of the dish. It also paired nicely with the Italian chardonnay, which helped pick up on the smoky notes of the dish."
"The reginette pasta with wild mushroom ragout, marsala and marjoram was hearty and perfect for the fall season," added Catherine. "I had never had reginette pasta, which basically looks like a mix between lasagna sheets and fettuccine, creating small compact ribbons. I don't think you can go wrong with any of their pastas as they are all made in-house daily."
"I loved the fish dishes, both of which were cooked perfectly, but my favorite was the oxtail ravioli," said Christopher. "I realize it's only on the dinner menu, but I could eat it all day—the flavors were perfectly blended and made my palate jump for joy. The sage pasta in the dish was outstanding."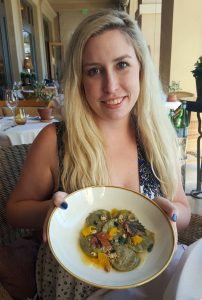 "Chef Jonah has shown an incredible aptitude for not only creating and plating amazing dishes, but also in passing on his knowledge and skills to his team in the kitchen. His pride in his work and team shows through the perfect delivery of the food and customer service of everyone at Andrea."
"Speaking of customer service, a special thanks to our server, Stephen," said Christopher. "His fun and professional demeanor, and his knowledge of the dishes and wines, are a perfect example and reflection of what makes Pelican Hill Resort so special. And of course, the sensational cuisine, and stylishly relaxing ambiance, is why Andrea Restaurant is at the top of our favorite places to dine list."
Our lunch dishes ranged from $18 to $31, not including the oxtail, which is on the dinner menu. Wines vary in price. For more information, visit PelicanHill.com.