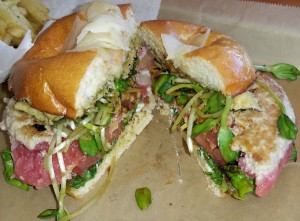 By Christopher Trela & Catherine Del Casale | NB Indy
Is there room for another burger joint in Newport Beach? If your name is Hopdoddy, the answer is yes!
After the Austin-based Hopdoddy Burger Bar opened restaurants in El Segundo and Playa Vista, they headed south to Fashion Island and opened a third So Cal location next to Sushi Roku, another recent Fashion Island addition.
Fortunately, the restaurants have nothing in common—Roku reigns supreme with sushi, while Hopdoddy serves a sizzling selection of burgers along with local craft beers—in fact, the beer list includes only Orange County breweries, and there are some might fine ones on the list.
By the way, the name Hopdoddy is a blend of Hop (as in beer) and Doddy, the nickname given to the native cow in
Aberdeen, Scotland.
Hopdoddy is known for all-natural, hormone and antibiotic-free burgers ground in-house. In fact, Hopdoddy diners can observe the kitchen staff grinding meat and preparing dishes.
The menu offers everything from a classic burger and mushroom burger to burgers made freshly ground bison, lamb, chicken, and turkey, plus sushi-grade ahi tuna.
We dined at Hopdoddy last Tuesday (opening day) and were surprised and pleased to see the place filled by noon, mainly with workers from nearby office buildings but also shoppers curious about the new hotspot to get a burger fix.
We tried the classic burger ($7.25), lamb burger ($10.50) and tuna ($13.25), plus truffle fries ($6.25) and two signature milkshakes ($5.50 each). We also sampled several beers to get a feel for the variety of suds available.
Our favorite entrée turned out to be the tuna—generous helpings of tuna were layered on a burger bun with sprouts, teriyaki and nori chips. But we also enjoyed the lamb burger with feta cheese and arugula, and the classic.
However, the winner of the day was the Nutella and chocolate pretzel milkshake.
"Wow—one of the best shakes I have ever had," exclaimed Christopher after one sip. "And I can see why the straws are so big—this is a thick shake, and the ground pretzel pieces are blended into the shake so that they offer a fun flavor and texture combination."
Hopdoddy is open daily for lunch and dinner. Visit Hopdoddy.com for more information.
Fall at Fig & Olive
Autumn is in full swing, and so is Fig & Olive's kitchen, which offers autumnal flavors with seasonal lunch and dinner menus.
In addition to three new Crostini (gorgonzola, apple, red marmalade), other appetizers and entrées include butternut squash and chestnut Velouté accompanied by shaved chestnuts, onions, toasted squash seeds, and a drizzle of Arbequina olive oil, and poached pears in spiced orange juice for dessert.
Other fall items include crisply seared sea scallops over roasted cauliflower purée and finished with cauliflower semolina, slivered almonds, cilantro, roasted almond oil, and citrus dressing; linguine flavored with artichokes, sautéed cremini mushrooms, radicchio, red onions, pine nuts, parmesan, lemon zest, and artichoke cremini mushroom purée; Riviera salmon with braised endives, sautéed broccolini, smooth cauliflower purée, and garlic bagna cauda; and chestnut mousse with Amarena cherry and walnut meringue.
For reservations or more information, call (949) 877-3005, or visit FigandOlive.com.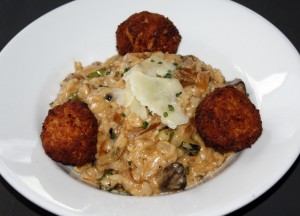 A Year of Big Fish
We're fans of The Bungalow Restaurant in Corona del Mar, and were pleased to hear last year that Bungalow owners Jim Walker and Louie Feinstein bought Big Fish Tavern in Laguna Beach last year.
To celebrate the restaurant's one year anniversary, the entire regular food menu will be offered at half off the regular prices on Nov. 18 from open to close.
"When we were brainstorming ways to mark our first anniversary, we felt
that giving our Laguna Beach neighbors and loyal guests a great incentive to come celebrate with us was a great way to say thanks," said Feinstein.
Big Fish Tavern will be open from 11:30 a.m. to 10 p.m. on Nov. 18. All starters, salads, sandwiches, entrees and desserts on the regular menu during both lunch and dinner will be available for half price (the Happy Hour menu is not
included).
We recently dined at Big Fish Tavern and had a great experience. This is good food at good prices no matter the date.
Big Fish Tavern is at 540 South Coast Highway across from Hotel Laguna. For more information, call (949) 715-4500 or visit bigfishtavernlaguna.com.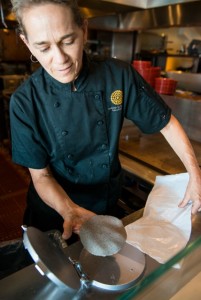 Seasonal Dishes at SOL
SOL Cocina Executive Chef Deborah Schneider is renowned for her Baja-inspired cuisine, so it's no surprise that her new fall menu items feature Chef Deb's own house-made blue corn masa, which is presented in her new blue corn gordita, a popular street food in Mexico that features a thick tortilla patted out by hand.
According to Chef Deb, the masa starts with dry blue corn cooked with lime, then ground through a little mill. "This two-day process yields a tender, delicious masa that, simply put, tastes like Mexico," said Chef Deb.
Among the many new menu items: fisherman's sashimi, viper taco with ghost chiles, agave-chile shrimp taco, short rib taco, shrimp torta, and chipotle-garlic ribeye steak.
Full menus can be found online at solcocina.com.