It seems that almost every foodie we know has been to Andrei's Conscious Cuisine & Cocktails in Irvine near John Wayne Airport—except us. That finally changed when Christopher stopped by for lunch several weeks ago and found out what we have been missing.
Andrei's is known as a stylish, modern eatery boasting Californian flavors, locally-sourced ingredients and an inspiring cause. The restaurant was named after Andrei Olenicoff, the owner's brother who lost his life in 2005. All of the restaurant's net profits are donated to The Andrei Foundation, an organization that supports a number of local and national charities. The goal behind Andrei's is to care deeply about everything that is served and to create a place where friends and family can share a meal that enhances their relationships.
Caring deeply translates to the chef, wait staff and management, all of whom make a genuine effort to ensure that guests are enjoying their experience. 
Christopher had a chance to sample several lunch items while chatting with Executive Chef Porfirio Gomez, who immigrated to the United States when he was only 15 and began as a fieldworker, picking green beans in Irvine. He quickly left the fields and began cooking for some of the most revered restaurants and resorts in Southern California, including Four Seasons Newport Beach, and spent nine years as Executive Sous Chef at Scott's Seafood in Costa Mesa.
Gomez has been executive chef at Andrei's for about a year, and has introduced fresh and unique dishes that combine Californian flavors with Spanish and French cuisine. His goal with the menu: "make people happy."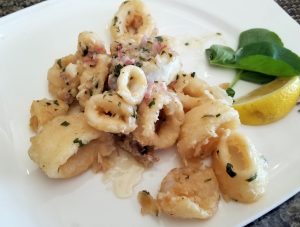 Happiness abounded in the dishes Christopher tried. Chef Gomez brought a plate of three of the most popular appetizers: panko-crusted portobello steak fries ($10), lamb lollipops ($17), and a special tuna tartare with avocado.
"Oh wow—these Portobello steak fries are absolutely amazing," gushed Christopher. "totally addicting. I would order these every time I come here."
Next was flash-fried calamari ($16) with garlic, shallots, and white wine lemon reduction.
"Again, a wow," said Christopher. "So often calamari is overcooked and rubbery, but this is perfect—possibly the best calamari I have ever had. And the flavors are simple yet they combine to enhance the dish. Another item I'd order every time."
After sampling several more items, it was clear that Andrei's is serious about its food, and serious about helping charities. We don't know of another restaurant that donates its profits, and it makes us want to dine there more often.
Andrei's has just opened for Saturday brunch. We'll be attending a media brunch this weekend and will be reporting back soon on our experience.
For more information, visit andreisrestaurant.com.