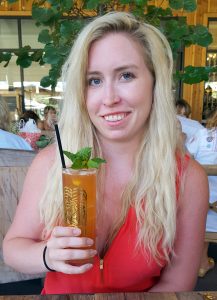 Chef Rich Mead made a name for himself with his restaurants Sage and Sage on the Coast, both Newport Beach institutions that closed several years ago (Provenance Restaurant occupies the old Sage spot).
Last fall, Chef Mead made a bold move and opened Farmhouse Restaurant at Roger's Gardens in Corona del Mar, an unusual spot for a restaurant and yet it fits perfectly within the Roger's Gardens' ambiance since Farmhouse boasts all al fresco seating.
Although Christopher has been to a couple of events at Farmhouse, we had never actually dined there until last week, when we made a reservation for lunch. We discovered that the restaurant's popularity has not waned since opening—the only time available last Friday was 1 p.m., which we gladly accepted.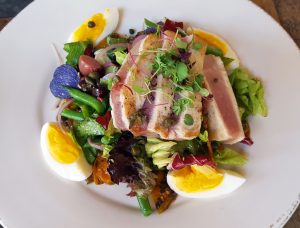 We were looking forward to trying Chef Mead's new summer menu, which included several fish dishes, fresh seasonal produce, and even new cocktails.
Catherine started with the new Night Nurse cocktail ($15), which she said was "a light, fresh and fruit forward cocktail perfect for brunch or lunch. This rum based cocktail didn't have the usual heaviness of some rum cocktails most likely from the mixture of melon shrub, macadamia nut and wild honey ingredients."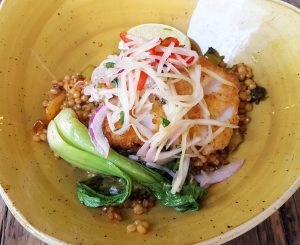 Christopher chose a Farmhouse Whim, which that day turned out to be a refreshing champagne-based cocktail ($15).
For entrees, Catherine chose the Seared Albacore Salad ($24) with heirloom cherry tomato and olive tapenade, heirloom tomatoes, green beans, sweet onions, nicoise olives, capers, hard-boiled egg, pee wee potatoes, and dijon vinaigrette.
Christopher selected Panko Crusted Icelandic Cod ($30) with creamy Tehachapi Grain Project farro, sprouting broccoli, kimchi, caramelized onions, grilled baby bok choy, and soy fish sauce ($28).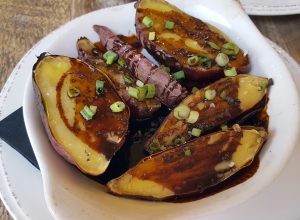 We added two sides that sounded intriguing: Grilled Corn and Summer Squash "Succotash" with fried shishito pepper ($9), and Roast Satsumaimo Sweet Potato with apple cider molasses glaze ($8).
"The sweet potato dish is fantastic," declared Catherine. "The apple cider molasses glaze was sweet and had a medium thick consistency that had me wanting to dip all of my veggies in it. The albacore salad came with four large slices of fresh Albacore. It was a nice light dish, though surprisingly filling."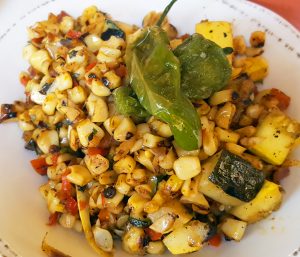 "The corn succotash is another great summer dish that tastes like it came from just-picked corn," said Christopher. "The cod is excellent, but what makes dish really stand out is the Tehachapi Grain Project farro."
We managed to save room for not one but two desserts: Lemon Mascarpone Cheesecake with graham cracker crust and coulis ($8) and Regier Farms Peach Crisp with brown sugar and oat topping, vanilla bean ice cream, and caramel sauce ($8).
"This cheesecake is very light for a cheesecake and practically melts in your mouth," said Catherine. "It's a perfect finish to a beautiful summer lunch on the patio."
For more information, visit farmhouserg.com.