Exactly five years after submitting their proposal for a boutique hotel on the old Newport Beach city hall site, the Lido House Hotel opened its doors to the public.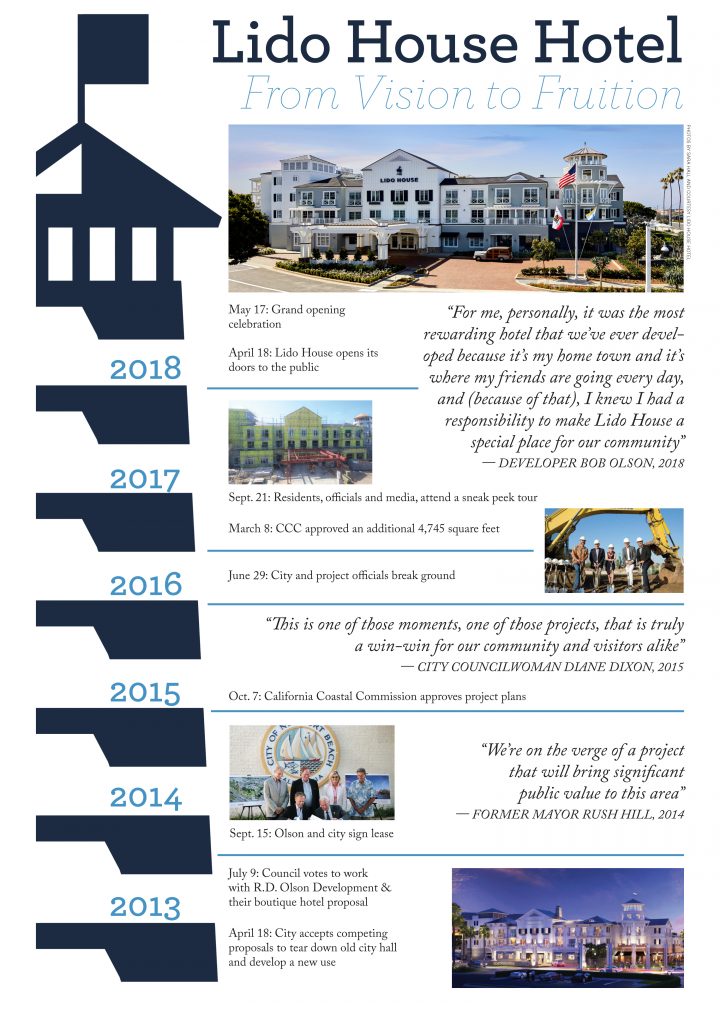 The "Newport nautical" architecture and design of the property, described as Cape Cod with a Newport Beach twist, is similar in style to the little Balboa Island home of Bob Olson, CEO of R.D. Olson Development, the company building the boutique hotel on the Balboa Peninsula. The original concept of the hotel evoked an emotional response from the locals, Olson said in an email this week.
"The original vision of the architecture and, in particular, the guest entry arrival, was incredibly important to me as I thought it resonated with our community," Olson noted.
Out of the 21 hotels his company has developed, Lido House was the most rewarding for Olson, he noted, because it's home and he felt a responsibility to make it special. And the five year process was fairly fast for this type of project, he added.
"Developing Lido House, a very complicated project, in five years is relatively quick given the approval process, the planning required and the detailed construction," he explained.
Lido House will never be "completed," Olson pointed out.
"It's an operating business and we have many moving parts so we will constantly be making improvements and adjustments daily so we can meet, and hopefully exceed, what our guests are looking for," Olson said. "With Lido House now being open, our focus now shifts to meeting the guest needs and to make sure we continually improve on what we are doing."
They've also opened some of the outlets after the hotel doors opened: TopSide rooftop bar and Crew Coffee+Creamerie.
For more information, visit lidohousehotel.com
Read through the Lido House Hotel's five-year journey (click for the accompanying stories):
2013:
April 18: Deadline for the city accepting competing proposals to tear down old city hall and develop a new use – Indy reviewed the three submitted proposals in a two-part story series, part 1 here and part 2 here.
April 23: Council hears proposal presentations
May 22: Developers were making the rounds, pitching their proposals and answering questions for residents, including at the West Newport Beach Association
July 9: Council votes to work with R.D. Olson Development & their boutique hotel proposal
2014:
Aug. 11: Planning Commission unanimously approved several plan and code amendments as part of the process to develop Lido House Hotel
Sept. 9: City Council unanimously approved the Lido House Hotel lease and several related land use amendments
Sept. 15: Olson and city sign lease agreement
2015:
Oct. 7: California Coastal Commission approves project plans
2016:
June 23: Planning Commission unanimously approves a 4,745 square-foot expansion
June 29: City and project officials break ground
July 26: Council approves expansion
2017:
March 8: CCC approves the additional square feet
Sept. 21: Residents, officials and media, attend a sneak peek tour
2018:
Feb. 7: Media hard hat tour at the hotel and and reception at Olson's little Balboa Island home, which served as the design inspiration behind the hotel
April 18: Lido House opens its doors to the public