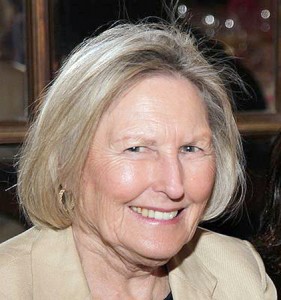 Longtime Newport Beach resident Link Mathewson, who reported on Orange County's society and restaurant scenes in newspapers and magazines for nearly 40 years, has succumbed to pancreatic cancer at 81. She was surrounded by her family and close friends.
A self-trained journalist, Lucille Linkiewicz Mathewson (nicknamed "Link") cited her "natural curiosity and thirst for knowledge" as the basis of a career in which she served as editor and/or reporter at leading publications including the Los Angeles Times, Orange County Register and Coast Magazine.
As a society reporter, she covered the county's nonprofit world as it grew exponentially and earned a foothold as a leader on the international front.
Later, she covered the county's restaurant scene during which time she witnessed OC evolve into a world-class dining destination.
As society editor for the Los Angeles Times and later Orange County Register, Mathewson had a unique perspective in covering that beat as she occupied a seat in society's upper echelon. She personally knew many of the subjects whom she was covering as they were her neighbors and friends. Never one to wield her influence though, Mathewson used her position to shine light on worthy civic, cultural and charitable institutions.
Later in her career, she brought her world travels, passion for cooking and even her ability to converse in French to report on OC's burgeoning dining landscape. Her latest column called "Tasty Tidbits" appeared in Coast Magazine. There, she diligently reported on the seemingly endless stream of restaurant openings and closings, new chefs in the region, culinary trends and other related activities.
"I first met Link at a les Dames d'Escoffier holiday event that she graciously hosted at her house," said Geeta Bansal, chef/owner of Clay Oven. "I had been following her interesting articles for the last few decades and appreciating her insight into the dining scene in Orange County. Last year she came to an event at my restaurant and after raving about my shrimp entree asked me to sign her copy of the menu, displaying her true passion for food and for those who create it. An elegant lady with a gentle demeanor and a beautiful smile, adored by all who have the good fortune to meet her. Beautiful blooms fade away but their scent lingers on."
Her editors and colleagues at the various publications where she worked valued her ethics and unwillingness to take advantage of her position or play favorites.
"As a dining writer, I had the privilege of attending many dining events and sharing a table with Link," recalled Christopher Trela, editor and dining writer for the Newport Beach Indy. "She was always gracious and charming, and had an infectious smile. And you knew if Link was dining there, it was a restaurant to be taken seriously. She knew and appreciated the culinary arts, and obviously enjoyed her profession. The journalism world has lost a true treasure."
Prior to journalism, Mathewson was a competitive three meter and ten meter platform diver in the 40s and 50s and even competed in seven National Championships and two Olympic Trials. In 1956 she dove for the Los Angeles Athletic Club and was ranked 5th nationally.  Her contemporaries, Pat McCormick of Seal Beach, who went on to win four Olympic gold medals in the sport, and OC resident and Olympian Sammy Lee, who holds two gold medals and one bronze, became lifelong friends. To earn a living, though, she was a TWA flight attendant during the halcyon days of glamorous air travel.
Whether flying high or diving in the water, she made friends everywhere she went and her adventurous spirit was infectious, said her friend of 35 years Else Langley of Newport Beach.
Langley recalls Mathewson as fearless in all of her pursuits. "She had a lot of guts — she dove off the highest diving boards, prepared elaborate French meals with ease and took on the world of journalism simply because she was willing to challenge herself and make life a thrilling experience."
Mathewson was born on March 18, 1932 in Calumet City, Illinois. She was the only daughter in a Lithuanian family. Her parents owned Linkee's College Inn, a neighborhood tavern outside of Chicago. She thought her early exposure to the hospitality business may have helped lay the groundwork for an eventual career in food journalism.
A devout Catholic, she attended mass regularly until her recent illness. She also was devoted to numerous nonprofit organizations and gave tirelessly of herself in service to others.
Despite an active and satisfying career, Mathewson's greatest love was her family.  She leaves behind three adult children: G. Paulina Mathewson-Ladreyt of Santa Monica, Robert Mathewson of Reno, Nev., and Curtis Mathewson of Newport Beach, as well as their father Charles (Chuck) Mathewson, their partners Anjali Mathewson, Pascal Ladreyt and Julia Padach, and grandchildren Christopher and Nicolas Ladreyt, and Sophie, Beau and Mia Mathewson.
In lieu of flowers, donations can be made to the Link Mathewson Scholarship Fund to help young women seeking careers in the culinary field.
Les Dames d'Escoffier, a related nonprofit and favorite of Link's, is managing the scholarship. Visit lesdameslaoc.org.