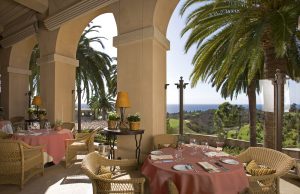 By Christopher Trela & Catherine Del Casale | NB Indy
"Beignets at Lighthouse and tacos at SOL, sushi at Roku and steaks at A Restaurant, the food at Andrea has such sex appeal, those are a few of our favorite meals."
Yes, once again we're singing about our memorable dining experiences in 2016, and we certainly had many to sing about.
We had the opportunity to visit dozens of restaurants in 2016, from high-end bistros to fast-casual concepts to a few hole-in-the-wall spots (including Knucklehead's Sports Bar in San Clemente, where former Sliding Door chef/owner Kevin Cahalan is serving up a sensational gourmet menu to dive bar patrons).
Most were in Newport Beach, although we did venture out of our culinary enclave to try restaurants in nearby Laguna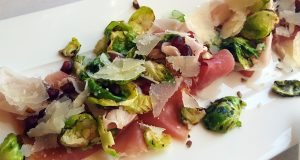 Beach, Costa Mesa, and Santa Ana.
And, fortunately, most of our culinary excursions ranged from notable to unforgettable. It's not easy narrowing our list down to the 16 we had room for in our column, but we did it! Here's our list of our 16 favorite dining experiences of 2016, in alphabetical order (restaurants are all located in Newport Beach unless otherwise indicated):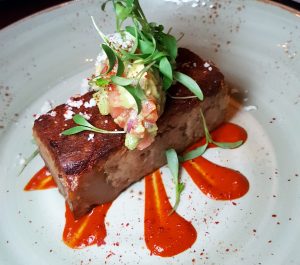 A Restaurant: We had a sensational dinner at A Restaurant earlier this year, and enjoyed their holiday lunch in December, prompting Catherine to declare that A is "one of my go-to places. I love their warm sourdough bread and soft butter. They are known for their steaks (the block cut is one of the best anywhere) but all of the options I've tried from chicken to pasta have been excellent. The service is impeccable."
Andrea at Pelican Hill Resort: Every time we dine at Andrea it's an experience unlike any other. Our expectations of a superb, relaxing meal served in an upscale yet comfortable ambiance with a view of the golf course and the Pacific Ocean are met every time. Even lunch is a leisurely two-hour affair. "Andrea does everything well, from the amazing servers who can pair any dish with wine, to the pasta maker and the chef who takes delight in creating dishes that surpass expectations," gushed Catherine.
Bayside: One of Christopher's favorites due to the live jazz on Thursday nights, the fantastic Scotch list, and the all-around solid menu.
Bluewater Grill: Another of Christopher's favorites, especially for their monthly seafood happenings (the annual stuffed lobster dinner is terrific).
Five Crowns: Every time we go to Five Crowns, we discover new menu items and new décor. Five Crowns has evolved from a special occasion restaurant to one with special ambiance and cuisine for any occasion. We love the patio dining, and the new bar.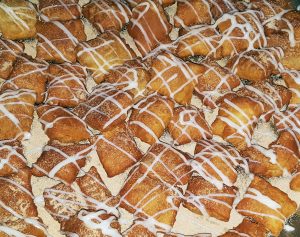 Lighthouse Café: We've dined here for breakfast, lunch and dinner, and Christopher brought his dog, Spencer, for Yappy Hour. "I like the low key atmosphere and the great harbor views," said Catherine. "I'm still raving about my Ahi sandwich, and the beignets."
Mix Mix Kitchen Bar: Not in Newport, but worth the drive to downtown Santa Ana to relish in chef Ross Pangilinan's global cuisine. Chef Ross was the longtime chef at Leatherby's Café Rouge at Segerstrom Center, where we dined at least once a month. "I love Chef Ross," stated Catherine. "Whatever he does, we'll be talking about it. His dishes are truly unique, complete with attention to texture, color, flavor and experience."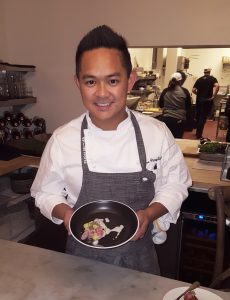 Moulin: We've been fans of this authentic French bistro on Bristol Street since they opened two years ago, and now that a second Moulin has opened in Laguna Beach near our editorial offices, we're fans of both locations. "They do a good job of bringing France to Orange County," said Catherine. "I don't feel pressured to finish and leave, a mentality most restaurants don't have. I love the Croque monsieur, the French fries, the sandwiches, the pastries, the Orangina—pretty much everything."
Sapori: This longtime local's favorite has terrific Italian cuisine, but since Sapori expanded its space and opened a pizza emporium next door, Catherine (a pizza addict) is in heaven.
Sgt. Pepperoni's Pizza: Our other favorite pizza restaurant, Sgt. Pepperoni's recently marked three years under new ownership (Sugar Ray drummer Stan Frasier and three fellow Newport Beach natives), and the refreshed menu is simple yet wonderful. Christopher has a serious addiction to the spinach pinwheels that can only be satisfied with regular visits, while Catherine craves the pepperoni pizza, and pinwheels.
SOL Cocina: When it comes to South of the Border dining, SOL is it. We dine here several times a year, and as Catherine says, "It's awesome! Amazing food, amazing cocktails, and I love the dockside dining." Christopher's go-to item is the Tacos Vampiros.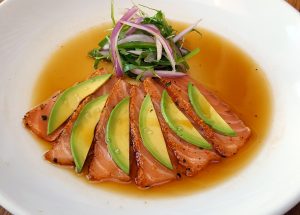 Social: Just over the border in Costa Mesa, Social has an eclectic California Cuisine menu which is interesting and satisfying, but it's their cocktail program we adore. "Every time I go there for drinks, the presentation and flavor is awesome," said Catherine. Christopher loves a good Sazerac cocktail, and the one at Social is the best he's had. Just watching them make the New Orleans cocktail is a joy.
Sushi Roku: Christopher's favorite Fashion Island restaurant was Brasserie Pascal, which closed three years ago. Fortunately, another fine restaurant took its place: Sushi Roku. "I love love love Sushi Roku," said Catherine in no uncertain terms. "I'm not a raw fish person, not a sushi person, but they have great meat dishes. However, I also enjoy their sushi, the quality is phenomenal. I think I'm spoiled—I won't settle for anything less. Oh, and the drinks are excellent too."
True Food Kitchen: Another restaurant with healthy options that exceed expectations. Love the patio dining, and the brunch menu.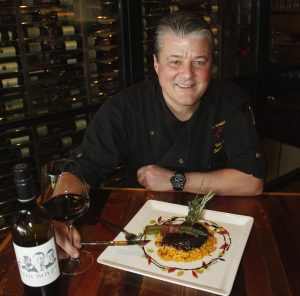 Water Grill: New Costa Mesa restaurant where Scott's Seafood used to be. "I really like it, it's a beautiful restaurant, everything we've had has been done well," said Catherine.  Great spot to dine before seeing a show at Segerstrom Center or South Coast Rep.
The Winery Newport: We celebrate our birthdays here every year, and also Mother's Day, Easter—any excuse to go to The Winery. Of course, you don't need a special occasion to dine here. Chef Yvon Goetz is a genius, the staff is wonderful, the ambiance first class with sweeping harbor views. And did we mention the fabulous weekend brunch? Or the nightly wild game special? An exceptional restaurant.
And if we had to pick three favorites for 2016? Once again, Andrea, A Restaurant and The Winery top the list for memorable dining experiences in Newport Beach. Runners Up: Mix Mix, Sushi Roku, and Social.
Next week, we preview new restaurants and those we've been meaning to get to that opened in 2016.