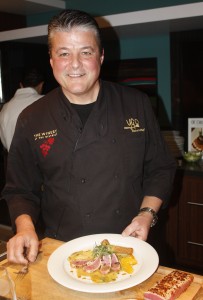 By Christopher Trela & Catherine Del Casale
"Wild game at The Winery, short ribs at Red O, pizza at Pirozzi and also Fresh Brothers. The French food at Moulin is such a big deal, these were a few of our favorite meals."
Yes, once again we're singing about our favorite thing: dining in Newport Beach.
We had a lot of terrific meals in 2014, and very few dishes that made our taste buds wince.
A number of new restaurants (including The Winery, Provenance and Cucina enoteca) opened, a few (like The Ritz and Pascal's Epicerie) closed, and one of our favorite chefs, Brian Hirsty of Bluewater Grill, passed away.
Our most anticipated restaurant was The Winery, built on the waterfront where the old Villa Nova once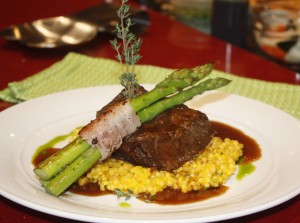 stood.
"The location is fantastic, no issue with parking—in fact they had our car out front before we got out the door," noted Catherine. "The service is quick, and the food and wine is excellent."
"I love the wild game dishes that Chef Yvon Goetz creates," added Christopher. "The bacon-wrapped venison is outstanding, the short ribs with bacon wrapped asparagus are tender, the buffalo Carpaccio is one of the best appetizer dishes I've had this year."
"Don't forget the filet mignon with the béarnaise and truffle sauces," said Catherine.
"Speaking of short ribs, you loved the short rib enchilada at Red O," I reminded her.
"I don't think I can go there without ordering the short rib enchilada, although they have some new menu items I need to try," she said. "I also love the ambiance there, you can have a different experience depending on when you go and where you sit."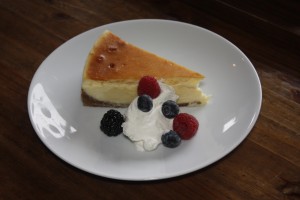 "I still love the short ribs at Sliding Door, although their lobster mac and cheese is pretty darn good too, as are the scallops," said Christopher.
"I love their desserts, especially the cheesecake, all of which are made by the chef, not a pastry chef, which is rare," said Catherine.
You know what's not rare? Pizza," laughed Christopher. "I can't believe the number of new pizza places that opened, which is perfect for you since you love pizza."
"I think I eat pizza almost every day," agreed Catherine, "and I have my favorites. Pirozzi Corona del Mar is a great experience with their authentic Napoli style pizza that cooks in one minute, and I love Cruisers in Balboa Village for their deep dish pizza. But I think Fresh Brothers is my go-to place for pizza delivery. Their gluten-free crust is the best I've ever had."
"You know me—I'm still partial to Sgt. Pepperoni's Pizza, especially now that they can make any slice "animal style." And of course, the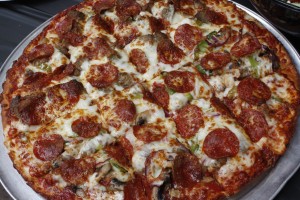 pinwheels are still outrageously good."
"We also loved the pizza at Settebello, Il Barone and Cucina enoteca," recalled Catherine.
"Speaking of love, a lot of love went into Moulin, one of my favorite new restaurants," said Christopher. "I love the fact it is so French. Owner Laurent Vrignaud wanted a piece of France in Newport, and that's what he has achieved."
"How about Leatherby's Café Rouge and the themed menus that Chef Ross loves to do for each musical that comes to the Segerstrom Center?" asked Catherine.
"His dishes are dynamic, creative—basically a work of art on the plate and a party in your mouth with all the different flavors and textures," agreed Christopher. "Every meal we had there outdid the one before. He also did the incredible menu for the Segerstrom Center's Candlelight Concert."
"I'm impressed with the Island Hotel's new restaurant and lounge," said Catherine. "I love the variety and creativity of the dishes, including the interesting desserts. The atmosphere is relaxing—you feel like you're on vacation."
"Same with Provenance—from the outside you can't tell that inside is a fun, casual restaurant with creative wine country cuisine," said Christopher.
"So many restaurants, so little space to include them all," mused Catherine. "No room to mention Pelican Grill, or A Restaurant, or The Bungalow, or SOL, or Pascal's garden fusion dinners at Sherman Gardens, or Tamarind, or Bayside, or Patty Macs…"
"I want to add a special thanks to the team that created the inaugural Newport Beach Wine & Food Festival," said Christopher. "Their first year was very impressive, and in fact they're returning in 2015."
"So what was our best dining experience of 2015?" asked Catherine.
"We had so many good ones, but I think we agree that The Winery topped them all for ambiance, décor, wine and cuisine," said Christopher.
"You're right," said Catherine. "The location is great, downstairs has one kind of vibe, upstairs is another, the upstairs patio is heated, and we've never had a bad experience there."
"Come to think of it, we seldom have a bad experience dining in Newport Beach," said Christopher. "That's a testament to the quality of restaurants, and chefs, we have in this town. I'm looking forward to many more excellent dining experiences in 2015."