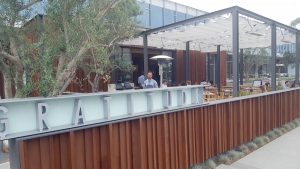 By Christopher Trela & Catherine Del Casale | NB Indy
 We're always grateful for the abundance of excellent restaurants in Newport Beach, and now there's one more to be thankful for: Gratitude at Castaway Commons on Westcliff Drive.
This organic and plant-based restaurant, which has additional locations in Los Angeles and San Diego, offers what it calls "consciously-sourced and thoughtfully-prepared cuisine" courtesy of seasonally-driven dishes from Chef Dreux Ellis. The restaurant also boasts an organic beverage program crafted by Jason Eisner.
Gratitude has a bright 4,300 square foot interior dining area with neutral tones, washed brick walls, exposed oak beams and pillars.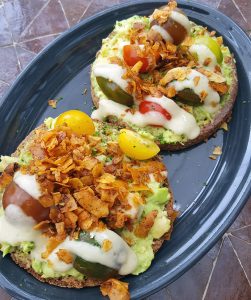 The eye-catching central bar is lined with custom barstools, while a separate 1,200 square foot patio is outfitted with geometric patterned cement tiles and handmade Morocco tiled tables.
Gratitude opened at the end of February but better late than never when it comes to checking a newcomer to Newport's dining scene.
Last week we opted to try Gratitude's breakfast menu and sit on the pleasant patio, which looks to be a preferred dining spot this summer.
After perusing the extensive beverage menu (which includes many healthy options such as smoothies and elixirs) and breakfast menu, Catherine ordered the "Elevated" rose water lemonade spritzer with lemon, agave, sparkling water and beet, while Christopher stuck with a traditional cappuccino.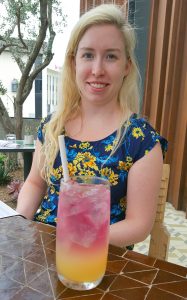 "The 'Elevated' was sweet and sour without being too much of either," noted Catherine. "It was very refreshing and a great start to our meal."
The breakfast menu offers plenty of interesting and healthy options served with what Christopher dubbed "a degree of decadence."
We started with the "Peaceful" smashed avocado toast ($8), which – like the entrees that followed – were beautifully plated.
"You could tell that not only were the ingredients fresh and organic, but that thought went into how each dish looked," said Catherine. "The toast was two pieces of gluten-free amaranth and mill toast with heirloom cherry tomatoes, matcha wasabi cream, gremolata, and applewood smoked salt. We went with our server's recommendation and topped it with some maple coconut bacon. It was delicious!"
We decided to share two entrees: the "Thrilled" French toast ($15) and the "Yo Soy Supremo"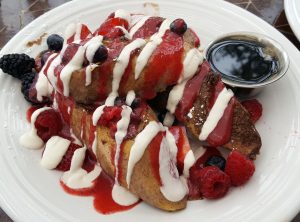 breakfast burrito mujado ($16). 
"The French toast is three large slices of slow-fermented artisanal baguette bread with a heavy drizzle of strawberry raspberry reduction, cashew creme fraiche, and powdered sugar, with a side of maple syrup," said Catherine. "I loved the sweetness of the strawberry raspberry reduction, and the bread was a perfect texture—not too hard or so soft that ends up like mush."
"And the way its plated almost makes me reluctant to disturb the artistry and dig into it…almost," added Christopher. "And the burrito with potatoes, pinto beans, coconut bacon, and avocado, topped with pumpkin seed salsa verde and goji chipotle sauce is hearty with a touch of heat—and it's a generous portion."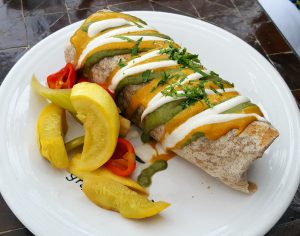 Unlike some breakfast entrees that leave you feeling bloated, we felt full but healthy, and vowed to return soon and sample the lunch and dinner dishes.
Gratitude is open daily for breakfast, lunch and dinner, and has a separate to go window for those who want a healthy grab and go option.
For more information visit: cafegratitude.com.
And for those unfamiliar with Castaway Commons, it's near the intersection of 17th Street/Westcliff Drive and Dover Drive. It's owned and operated by Burnham-Ward Properties of Newport Beach, who also are responsible for two of our other favorite shopping and dining areas: SOCO and The OC Mix, both in Costa Mesa.