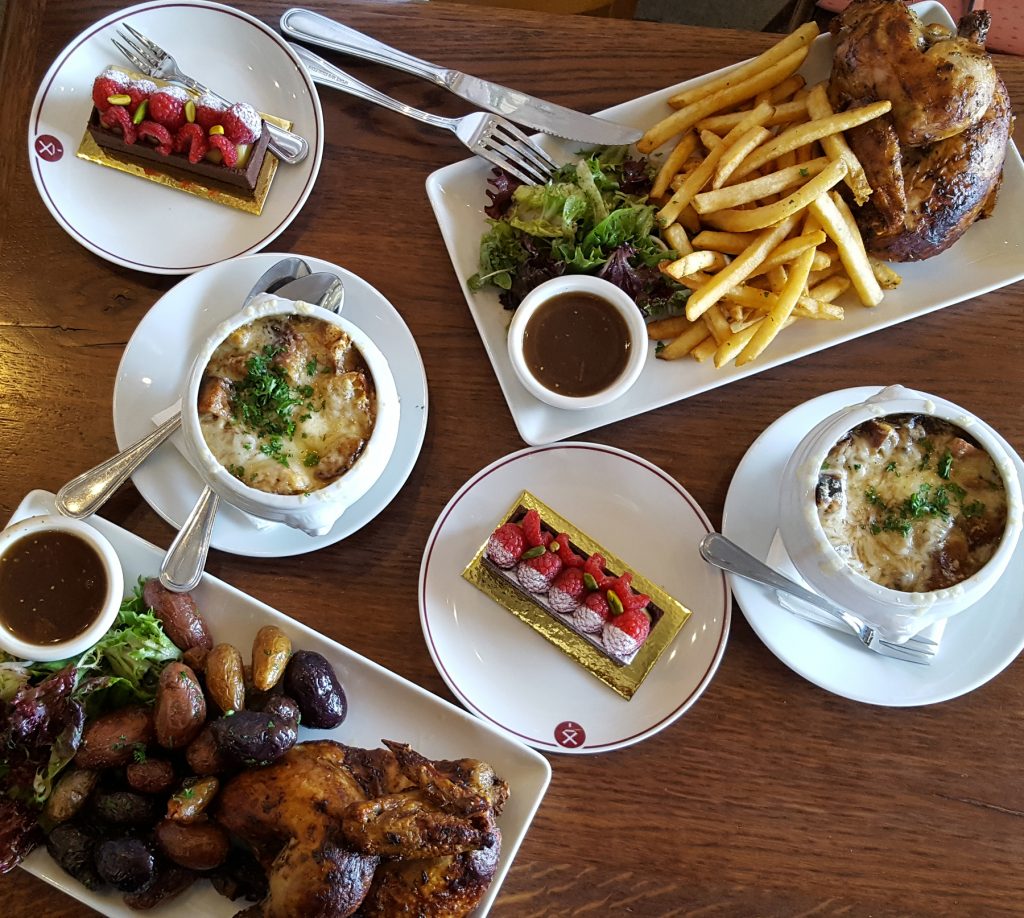 By Christopher Trela & Catherine Del Casale | NB Indy
 Orange County Restaurant Week ends March 5-11, with more than 100 restaurants throughout the county offering prix fixe menus for lunch or dinner.
The prix fixe menus vary from $10, $15 or $20 for lunch, and $20, $30, $40, or $50 for dinner.
A few restaurants (including Mix Mix in Santa Ana) are also offering a special $80 "luxe" menu featuring dinner with wine or cocktail pairings.
Nearly three dozen Newport Beach restaurants are participating in OC Restaurant Week. As of press time, we managed to hit Moulin and Taco Rosa for lunch, and Fly N Fish for dinner. Not surprisingly, all three offered terrific value and superb cuisine.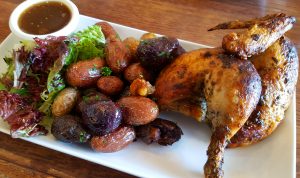 MOULIN
When it comes to French restaurants, nobody can outdo Moulin, which is about as authentic as you can get. Owner Laurent Vrignaud has created a slice of Paris in Newport Beach (and as of last summer, a sister bistro in downtown Laguna Beach), complete with an authentic Parisian menu, décor, and even French chefs and staff.
Moulin is offering a $20 menu for both lunch and dinner that includes La Soupe à L'Oignon (classic French onion soup with house baked baguettes topped with melting Emmental cheese), Le Poulet Frites (slow-cooked rotisserie half chicken with choice of French fries or fingerling potatoes), and an artisan French dessert.
"Laurent, I have to tell you that I do not normally like French onion soup, but this is the best I've ever had," Christopher told Vrignaud as he walked by our table.  "And the chicken is cooked perfectly. The potatoes are delicious—firm yet soft. The portions are more than generous—you're going to go broke with this deal."
If you miss the OC Restaurant Week menu, the dishes are all available on the regular Moulin menu. Visit MoulinBistro.com for more information.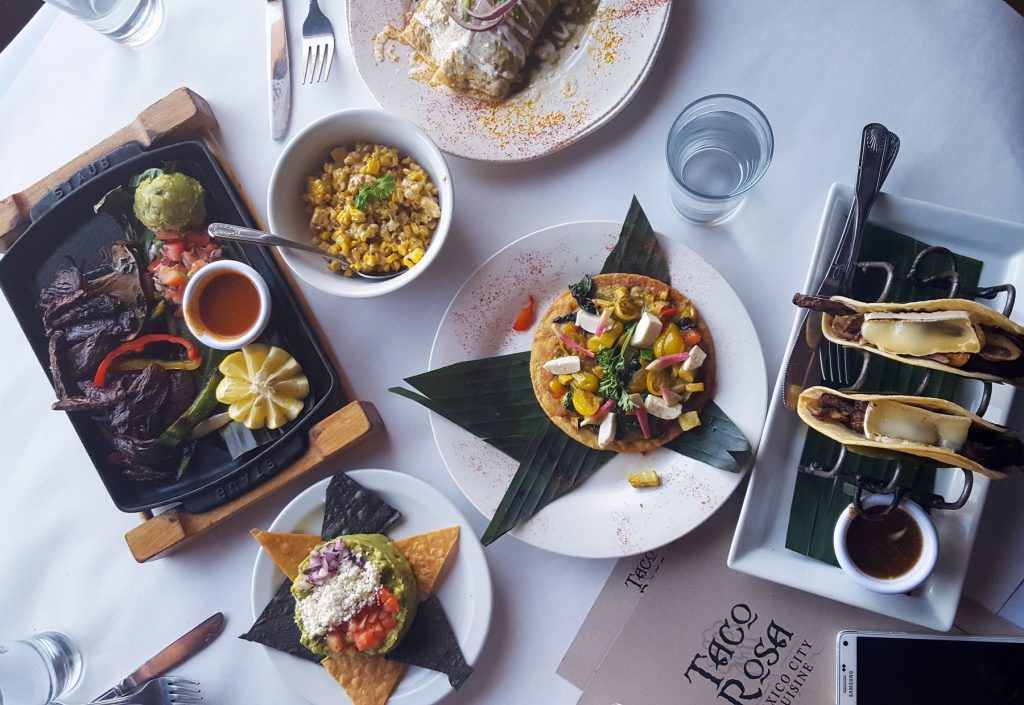 TACO ROSA
Taco Rosa has been tucked away in the Newport Hills Shopping Center at the corner of San Miguel and Ford Road for 13 years, yet somehow we'd overlooked this authentic Mexican Food restaurant—until now.
The $15 OC Restaurant Week menu got our attention: Choice of chicken chipotle soup, guacamole with non-GMO corn chips and salsas, or baked tostadaita to start, followed by a choice of six entrees and five sides.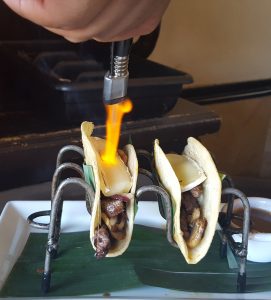 Fortunately, three of us sampled the lunch menu and got to try a variety of items, including the fajitas, chicken enchiladas, and tacos de filete (char broiled skirt steak tacos sautéed with mushrooms and topped with flamed brie cheese).
"I had no idea that when the menu says 'flamed brie,' it meant that the cheese is flamed tableside while I watch," said Christopher. "This is fabulous—really tender and juicy tacos. The guacamole tastes as fresh as it can be, and the tostadaita with refried beans, mole pipian, tomatoes and cheese is a fun and crunchy delight. I can't believe we've waited this long to dine here. We'll be back!"
For information on Taco Rosa, visit TacoRosa.com.
 FLY N FISH OYSTER BAR & GRILL
Fly N Fish Oyster Bar is virtually hidden among a strip of restaurants and boutiques near the Newport Pier, but once you find Fly N Fish, you'll be hooked.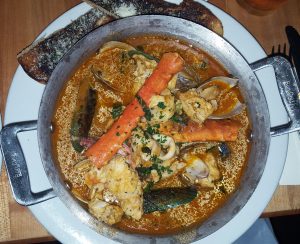 They are offering guests a $20, 3-course lunch menu along with a $40, 4-course dinner menu, which is what we sampled this week.
The menu starts with a cup of award-winning New England clam chowder—and they're generous with their clams. After that comes a house salad, followed by a selection of three fresh seafood dishes including Chef Julio's signature macadamia lemon crusted halibut served on roasted fennel with winter roasted vegetables, Cioppino (a warm seafood stew with roasted tomato basil broth and Italian herb parmesan toast), and miso glazed wild Mexican seabass.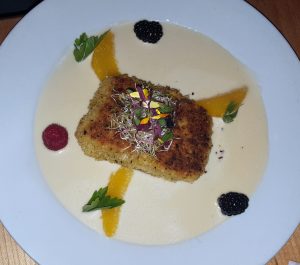 Dessert is either the banana chocolate bread pudding topped with vanilla bean ice cream and a homemade dark rum spice cinnamon glaze, or a classic cheesecake topped with berries and a port reduction.
"The cioppino is fabulous—it's loaded with seafood, the broth is delicious, and it's more filling that I thought," said Christopher midway through the meal. "I'll have to take the cheesecake to go."
For more information visit flynfishoysterbar.com.