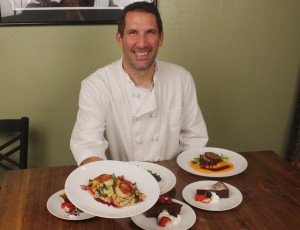 By Christopher Trela & Catherine Del Casale | NB Indy
"Sushi at Roku and pizza at Sapori, breakfast at Moulin and pasta at Pelican Hill, 50 years of Five Crowns was such a big deal, these were a few of our favorite meals."
Yes, we're singing about food again, but great cuisine always puts a song in our hearts and a smile on our faces.
And that's one thing Newport Beach has—great cuisine, and a lot of it. Based on the variety of places we dined at in 2015, you can get almost any type of meal in Newport. We had some wonderful dining experiences, but before we review the year, a fond farewell to some of the local restaurants that closed in 2015: Sliding Door (one of our favorites in Balboa Village), Il Barone Pizza, Maverick's, Tamarind, JackShrimp, Pinot Provence, Charlie Palmer, Z'Tejas, and as of New Year's Day, Scott's Restaurant.
Our favorite experiences began on the Balboa Peninsula with Cruiser's Pizza and worked our way up to El Ranchito, which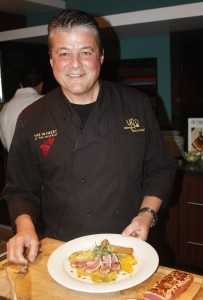 celebrated its 40th anniversary this year.
We loved our experiences at Fly 'n' Fish near the Newport Pier.
"I was really impressed with the food," recalled Catherine. "Those were the top scallops I've had, the bacon was so easy to slice through, and the seasoning on the fries was perfect."
"They also have terrific Poke," added Christopher.
Newport Beach Brewing Company celebrated its 20th anniversary by doing what it does best—serve good food and good prices.
"Great French fries, and they have twists like mac and cheese pizza. They're a little above the usual," said Catherine.
Bluewater Grill was still our favorite spot for seafood, and their cocktails are still the best deal in town.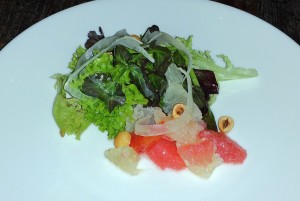 "The Winery Restaurant is my mom's new favorite dining spot," said Christopher. "We took her there for her 90th birthday in February, and she said it was the best salmon she's ever had—and at 90, she's had a lot of salmon! Chef Yvon is a wizard in the kitchen, and he's got a nice wild game menu—the bacon-wrapped venison is my go-to dish. The ambiance is upscale yet comfortable. A wonderful experience all-around."
In Corona del Mar, we've been to Pirozzi several times, and The Bungalow, which is always a relaxing and classy experience.
Five Crowns celebrated its 50th anniversary by introducing new menu items, new décor and new dining experiences.
"They did so many new and interesting things such as special dinners with live music accompanying each course of your meal, a secret speakeasy upstairs, new menu items listed alongside the old ones, and refreshed décor," noted Catherine. "The staff is knowledgeable, and it's great having your wine or cocktail paired with your food."
Sapori restaurant opened their pizzeria, and we've been fans since day one. We love the Nutella dessert pizza, and the regular pizza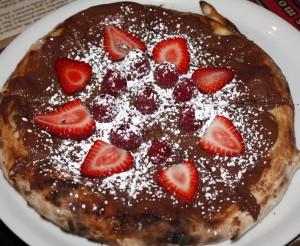 is as close as you can get to Italy. Paired with the adjacent Sapori Restaurant, it's the quintessential neighborhood restaurant.
"I've been to Bayside several times this year and have really been impressed with the cuisine," said Christopher. "They now have one of the largest selections of Scotch in Orange County—in fact, I went to a Scotch-pairing dinner that highlighted some sensational Scotches. I also love the live Jazz on Thursday and Friday nights."
We dined at Cucina Enoteca several times this year and have been impressed with the experience each time.
"Cucina Enoteca is always consistent. I loved our brunch, and they have a great wine program. You get a different experience depending on where you sit in the restaurant—the patio, the dining room, the communal tables," said Catherine. "I also like the to go program where they box your leftovers and put them in a refrigerator up front and you pick them up on your way out so you can still enjoy the rest of your meal."
We also paid visits to Red O and had a wonderful brunch at Fig & Olive.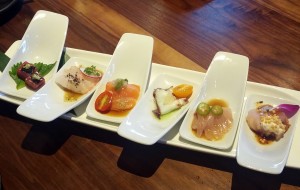 But of all the Fashion Island restaurant, the one that blew us away was Sushi Roku. The food was creative, fresh, colorful, and packed with flavor. And if you don't particularly care for Sushi, they have other menu options.
"That may be the best sushi I have ever had, and certainly the most creative," gushed Christopher when we sampled the menu back in July. "The Blue Crab tartare with uni and caviar for $30 was sensational. It practically melts in your mouth. Everything we tried, from the sushi to the short ribs was perfectly prepared and presented."
We also like what Chef Cathy Pavlos is doing at Provenance. Christopher went to a clam bake there this summer and loved every moment.
And then there are the trio of restaurants at Pelican Hill Resort: Andrea, Pelican Grill, and Coliseum Pool & Grill. We attended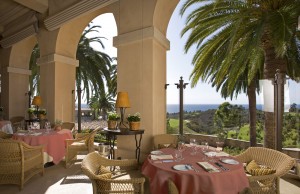 several culinary events there (including Festa) and dined at Pelican Grill, and were reminded why they are always at the top of our restaurant list.
We do occasionally stray out of Newport Beach, and have several favorites in Costa Mesa and Laguna Beach.
We probably dined at Leatherby's Café Rouge at Segersgtrom Center more than any other restaurant, partly because we attend a lot of events at Segerstrom Hall and it's an easy stroll from the restaurant to our seats. But it's also because Chef Ross Pangilinan creates themed menus for the Segerstrom musicals and other shows that are culinary works of art. Even his usual menu is superb.
We also dined at Social several times and like the décor, the food and fun cocktails, and of course ARC in SoCo remains a favorite.
The new Skyloft impressed us in Laguna Beach, but so did K'Ya, which has been around for a few years but remains an impressive presence on the coastal dining scene.
Our Top Five restaurant experiences of the year: Pelican Hill, Sushi Roku, The Winery, Cucina Enoteca, Five Crowns.
Runner Ups: Fly 'N' Fish, Sapori, Bayside.
Bonus favorite: Moulin, the French bistro that opened a year ago on Bristol Street. Christopher dines there frequently for breakfast and lunch, and we've been to their $25 dinners on Tuesday and Thursday nights. The experience is a French as you can get, and the food is wonderfully authentic.
Favorite "not in Newport but wish they were" restaurant: Leatherby's Café Rouge.
Here's hoping that 2016 will be another fun culinary year. Cheers!