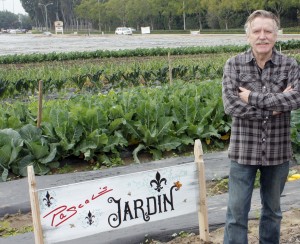 By Christopher Trela & Catherine Del Casale | NB Indy
Chef Pascal Olhats is the mastermind behind the popular Café Jardin at Sherman Gardens in Corona de Mar, but he also has Pascal's Jardin at Manassero Farms in Irvine.
This jardin, or garden, is a bit different—it's where Pascal grows much of the produce he uses at Café Jardin and his Pascal restaurant in San Juan Capistrano.
His produce garden is part of the Manassero Farms property, which has been in Orange County for many years. Pascal is a frequent visitor to Manassero Farms—he hosts a monthly breakfast event at the Farm's al fresco dining area, and brings in a guest chef each time to prepare the cuisine while guests watch and sip mimosas.
This Saturday, the Breakfast in the Barn features guest chef Takashi Abe of Bluefin in Newport Coast Promenade, one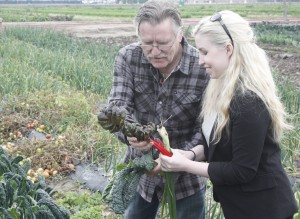 of the top Japanese restaurants in Orange County. Bluefin was recently nominated for a Golden Foodie Award in the Best Sushi category, which is no surprise because we've experienced Abe's culinary skills at his restaurant and agree his sushi is art on a plate.
We'd tempt you with Abe's impressive menu for the Manassero Farms breakfast, but it's sold out, although you can call Manassero Farms at (949) 554-5103 to see if there's a cancellation. The breakfast is $28 for three courses plus mimosas.
For more information on Manassero Farms, visit ManasseroFarms.com. Follow them on Facebook at TheOriginalManasseroFarms to stay informed of upcoming events.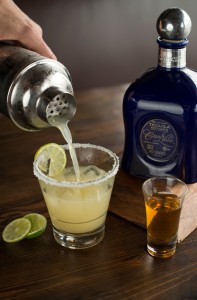 SOL Cocina Creates Custom Tequila
Tequila aficionados know that SOL Cocina in Newport Beach carries more than 70 artisan, premium and ultra-premium tequilas and mezcals.
They also know that SOL custom blends its own limited-release tequila (when the barrel is empty, that's it for that blend).
SOL has just introduced its eighth Single Barrel Reposado Tequila, custom blended at Casa Noble's tequila distillery by SOL partners Rich Howland and Matt Baumayr.
"Guests can look forward to a unique experience, compared to our previous barrels," said Baumayr. "As with its predecessors, this tequila is great served neat or in a margarita. It's a touch more masculine and bold on the front than our prior barrels, but has a very smooth and complex finish. Guests can expect to taste cooked agave, light honey, and notes of brown sugar and caramel on the nose. There is also a subtle sweetness up front with cocoa, vanilla, and brown sugar to finish hold up in one of our hand-crafted cocktails."
For us, sampling a new tequila at SOL is just an excuse to enjoy Chef Deborah Schneider's fantastic coastal Mexican cuisine. Her street tacos are terrific, but Christopher said he could live just on her taco vampiro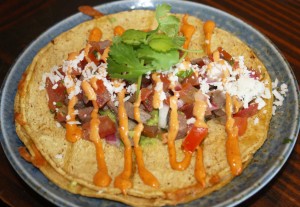 : a double tortilla with melted cheese, serrano chiles and scallions, stuffed with carne asada, guacamole, and pico de gallo, then topped with cotixa, chipotle aioli and cilantro.
To celebrate its six-year anniversary, SOL Cocina will host a weeklong tribute to Chef Deb's Super Taco, which she introduced back in 2009. From Tuesday, Sept. 15 through Friday, Sept. 18, guests can enjoy a different Super Taco each day from 5 p.m. to close.
Her Super Tacos include  Grilled Agave Shrimp Taco with Spicy Green Sauce, Ghost Chile "Viper" Taco with Grilled Chicken, Roasted Butternut Squash Taco with Crispy Onions & Smoky Sour Cream, and Red Chile Beef Shortribs Taco with Avocado Salsa Taquero.
For more information, visit solcocina.com.
Sustainable Seafood at Bluewater Grill
Bluewater's annual tribute to sustainable seafood and shellfish has returned for a fourth year to its Cannery Village location though the end of September, and we couldn't be happier.
The "Sustainable Seafood Feast" features seafood and shellfish that has been sustainably caught or farmed according to standards established by the Monterey Bay Aquarium Seafood Watch program, the Aquarium of the Pacific in Long Beach Seafood for the Future program or the Marine Stewardship Council.
The special menu ($34.95) allows guests to select three courses, including a raw shellfish or hot seafood starter, a choice of signature chowder or lobster bisque, and an entrée, plus all-you-can eat sourdough bread and butter.
"We hosted our first sustainable seafood feast in 2012 to show our customers just how easy it is to make responsible seafood choices," said Jimmy Ulcickas, Bluewater Grill co-founder.
More than 90 percent of the seafood offerings at Bluewater Grill are sustainably caught or farmed, which is among the highest of any seafood restaurant in California.
For more information, visit bluewatergrill.com.