By Christopher Trela & Catherine Del Casale | NB Indy
Which bread plate is mine? Did I grab the wrong water glass? Which fork do I start with?
Those are just a few of the dilemmas we're faced with every time we sit down to dine at a gala event with a table filled with fellow revelers.
Catherine is Miss Manners, but Christopher sometimes turns into Mr. Klutz—buttering his bread with the wrong knife, using the wrong fork for dessert, and leaving evidence of his meal on the table in front of him.
That's why Christopher looked forward to having lunch at Bluewater Grill with Julie Ann Ulcickas, author of "Urbanity Fair: An Abbreviated Guide to Modern Manners."
Julie Ann is the wife of Bluewater Grill founder Jim Ulcickas, who has expanded Bluewater Grill from its original Newport Beach location to seven restaurants, including Catalina, Temecula and Phoenix. An eighth location opens next year in Carlsbad.
Julie Ann teaches etiquette to the Tournament of Roses Queen and her Royal Court every year (she's a former Tournament of Roses Princess), has an etiquette website (UrbanityFair.net) and a series of etiquette videos.
We'll be profiling Julie Ann soon in conjunction with the Royal Court's trip to Newport Beach in October.
While perusing the lunch menu, Julie Ann recommended several dishes, including the seafood paella Valenciana ($25), which includes Spanish chorizo, clams, mussels, shrimp and chicken with saffron rice, petite peas and, peppers.
"Going with her recommendation I ordered the paella, which was a terrific choice," said Christopher, who is a paella fan. "The portion is generous, packed with an array of flavors, and tasted as fresh as you can get. Bluewater always excels at everything they do, and their seafood paella is certainly impressive. I'm surprised I had never ordered it until now, but this may be my new go-to favorite."
We began our lunch with a half dozen oysters, which were perfectly chilled and tasted like they just came out of the water. And of course, the terrific sourdough bread—which Christopher carefully buttered and placed on his bread plate.
Bluewater Grill is a perfect spot for a relaxing lunch on their outdoor patio that overlooks Newport Harbor. Visit BluewaterGrill.com for more information.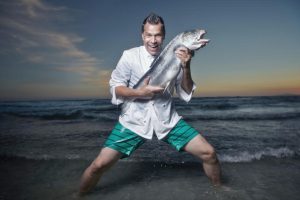 Chowder for a Cause
Another seafood restaurant we enjoy is Fly-n-Fish Oyster Bar near the Newport Beach Pier. Executive Chef Julio Hawkins is creating dazzling seafood dishes, but it's his clam chowder that takes center stage in October.
In conjunction with National Seafood Month, Fly-n-Fish holds its second annual Chowder for a Cause to benefit St. Jude Children's Research Hospital. Throughout the month of October, proceeds from every order of New England Clam Chowder sold will be donated to the hospital.
Last year, Fly-n-Fish raised $10,000 during its Chowder for a Cause event, which pleased owners and restaurateurs Rick and Steve Loomis. They've reportedly been in the hospitality industry for nearly four decades, wanted to find a way to give back to their community while supporting a good cause.
"At Fly-n-Fish, we're focused on giving back to our community and we are very excited to launch this fundraiser for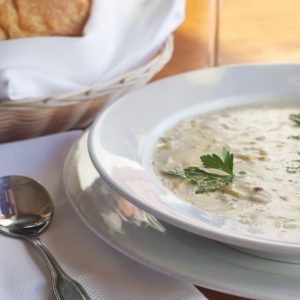 the second year in a row. We are so fortunate to be well received by our guests and this is our way of saying thank you," said the Loomis brothers in a press release.
Chef Julio's New England Clam Chowder recipe includes chopped clams, potatoes, and leeks. To perfect the flavor profile, Rick, Steve and Chef Julio sampled 23 different clam juices to find the perfect match and coupled it with Triple Applewood Smoked Bacon.
And despite what the restaurant's name implies, Fly-n-Fish is more than oysters, although they have plenty on the menu.
Signature dishes include Maryland Crab Cakes (pan fried and served with a papaya-mint salsa), Pan Seared Diver Scallops wrapped in triple smoked apple wood bacon and served with an achiote aioli, Cioppino presented with shrimp, scallops, clams, mussels, calamari, crab and seasonal fish in a zesty red wine sauce, and of course the New England Clam Chowder.
For more information, visit flynfishoysterbar.com.
Pelican Hill's Festa dell'Autunno
One of our favorite events every year is Pelican Hill's Festa dell'Autunno, a taste of Italy in Newport Beach held Oct. 7-9.
This celebration of the harvest season includes special dinners with Italian Guest Chef Filippo Gozzoli from the Armani Hotel Milano, a jazz brunch, and an Italian street festival on Saturday, Oct. 8.
We've attended the street festival every year, and always feel like we've taken a relaxing and immersive trip to Italy. Guests can enjoy a variety of traditional dishes, Italian wines, live music, traditional chalk art, mimes, Italian motor cars, bocce ball, flag performances, and more.
Pelican Hill is offering the public an opportunity to win a pair of tickets to the Street Festa (a $300 value). Visit Pelican Hill's Facebook page at facebook.com/PelicanHillResort, and tag a friend in their contest post for a chance to win two tickets.
Entries close October 3. Please visit pelicanhill.com/win for official rules. For complete event details and tickets, visit pelicanhill.com/festa.