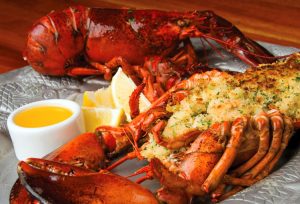 By Christopher Trela & Catherine Del Casale
Stuff the Lobster, Not the Bird
By popular demand, Bluewater Grill is bringing back its Stuff the Lobster Instead of the Bird dinner starting November 15 and running through the end of December.
According to Bluewater Grill, Stuffed Maine Lobster is a classic family feast that originated in Boston-area seafood restaurants and has since become a cherished New England holiday tradition.
The festivities kick-off with a Nov. 15 with a whole Maine lobster stuffed with a special shrimp and buttery panko-crumb stuffing and served with choice of New England or Manhattan Clam Chowder, two sides, unlimited fresh sourdough bread, and of course a Bluewater bib for just $34.95.
That night, the lobster special includes a complimentary wine pairing.
We go to Bluewater Grill every year for this special treat; so do many other lobster fans. Visit BluewaterGrill.com for reservations and more information.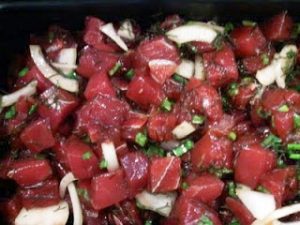 Poking Fun at Poke Festival
Many people have a love affair with poke (pronounced "Poh-kay"), the Hawaiian delicacy that uses raw fish as the main ingredient.
The love affair has bloomed locally into the I Love Poke Festival, taking place Sunday, Nov. 13 at the Hotel Irvine.
Festival goers will get to sample poke as well as many non-poke treats like shave ice, musubi, and other Hawaiian/Asian inspired dishes.
Among the restaurants participating in the poke festival are Roy's of Newport Beach and 370 Common in Laguna Beach.
The poke chefs will be competing for the title of Best Poke. A panel of judges will evaluate each dish based on presentation, quality of ingredients and flavor, to crown the winner.
We attended the event last year and loved the variety of unusual poke dishes, but this year it's back to poke basics.
"We have all seen poke grow in popularity with new poke inspired restaurants opening almost weekly, but most of the mainland poke out there isn't true to the dish's Hawaiian roots," said event curator, Nino Camino. "This year we have chosen to give our competing chefs a challenge. The theme of the competition is "Hawaiian Style" poke. We want our chefs to think back to the first time they had real Hawaiian poke and base their recipe off that."
Tickets are available for $75. Visit onoyum.com for details.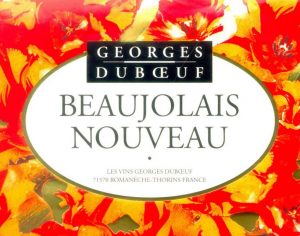 Beaujolais Nouveau Arrives at Moulin
Every year on the third Thursday of November, Beaujolais Nouveau is released to the world. Unlike most wines that requires months of aging, Beaujolais Nouveau (made from Gamay grapes) is bottled just weeks after harvest.
On Thursday, Nov. 17, Moulin celebrates the release of the 2016 Beaujolais Nouveau by the glass and by the bottle beginning at 5:30 p.m. Guests can also enjoy all-you-can-drink Beaujolais Nouveau at the Entrecôtes Frite dinner for only $39 per person.
We know where we're dining on Thursday!
Visit MoulinBistro.com for details and to make a reservation as seats are limited and this event will sell out.