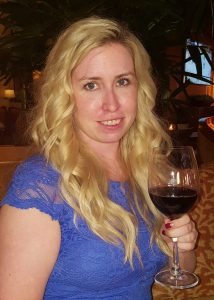 Lounging and Dining at Pelican Hill
We were at a reception at Pelican Hill Resort this week to meet the resort's new Managing Director, Tom Donovan. We gave him a glowing account of our dining experiences at Andrea, Coliseum Pool & Grill, and Pelican Grill, but our descriptions made us hungry, so we decided to linger after the reception and enjoy a few items from the small bites and plates menu in the Pelican Hill lounge.
We found a comfortable couch with a table facing the ocean and the setting sun. and perused the menu. Upon our server's recommendation, we ordered the pizza Bianca with prosciutto and arugula ($22) and the ahi tuna tacos, served on a slice of avocado drizzled with ponzu ($14).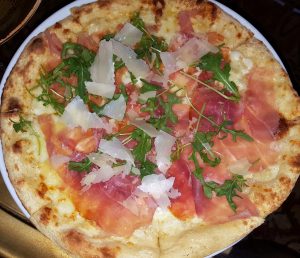 "If you are looking for the perfect spot to watch the sunset and share a couple of appetizers over a nice glass of wine, this is it," stated Catherine. "The daily happy hour from 5 p.m. to 7 p.m. offers great wines by the glass and handcrafted cocktails for $5, which is a steal."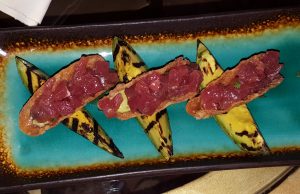 "The Ahi Tuna Tacos are one of my favorite appetizers," added Catherine. "The crisp shells are stuffed full of tuna. The pizza Bianca is a Neapolitan style pizza topped with San Daniele prosciutto, Arugula and truffle oil. It's light, crisp and made me wish I had ordered one for just myself."
"The pizza is larger than I expected, so you get to take the rest home," Christopher told her has he sipped his wine and watched the sun sink into the ocean.
For more information, visit PelicanHill.com.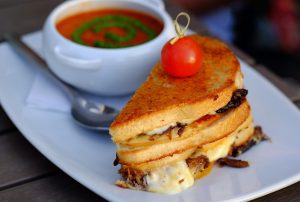 Lighthouse Café's Menu Makeover
Lighthouse Café in Marina Park on Balboa Peninsula has unveiled several new menu items—make that 25 new seasonal dishes!
The new breakfast, brunch, lunch, dinner and beverage menus are from Executive Chef Ryan Sumner, and are inspired by spring and summer on the waterfront.
Some of the new items: Egg white frittata with sautéed mushrooms and baby spinach, grilled Mahi-Mahi tacos, crispy breaded calamari, BBQ pulled pork sliders, crisp brussels sprouts with Spanish chorizo, and chipotle ketchup glazed meatloaf.
But the one that caught our eye and makes us want to rush over to Lighthouse: Short rib grilled cheese with braised short ribs, muenster and smoked gouda cheeses, on parmesan sourdough accompanied by tomato soup. Yes please!
This is the perfect time to go to Lighthouse café and dine on the dog-friendly patio with a view of the harbor.
For more information, visit lighthousenb.com.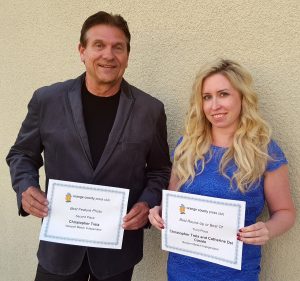 And the Winner Is…
At this week's annual OC Press Club Journalism Awards gala, we were pleased to receive third place for our Off the Menu column, specifically the "Best of 2016 Dining" published last December.
And Christopher was pleased but surprised to receive second place in the Feature Photo category for a shot he took of the colorful desserts at Moulin in Newport Beach (see below).
We know our readers enjoy our column, but it's nice to see our peers also appreciate what we do!