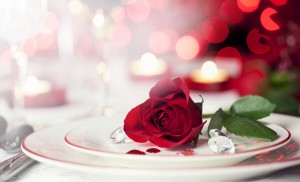 Valentine's Day (Feb. 14) falls on a Sunday, so many local restaurants are offering special menus Friday through Sunday, which means you don't have to worry about getting a reservation on Sunday. Some are focused on Feb. 14, so make reservations early before they're sold out.
21 OCEANFRONT
21 Oceanfront is offering a special Valentine's menu on February 14 from 4:30 to 10 p.m. For $110 per person, you can chose starters such as spicy tuna tartare or sautéed scallops, and entrées that include center cut filet mignon, cold water lobster tail, and seared sea bass. For dessert, choose between chocolate flourless cake or passion fruit crème brulée. Visit 21Oceanfront.com or call (949) 673-2100.
 BABETTE'S
Celebrate your love by enjoying the picturesque sights and sounds of Babette's. Babette's will be featuring their regular menu as well as a special a la carte menu. The ambiance is cozy and inviting, with a romantic patio and fireplace. Valentine's special available on February 14 beginning at 5 p.m. For reservations, please call (949) 715-9915.
 BACK BAY BISTRO
Back Bay Bistro is serving a seven course prix-fixe dinner Valentine's Day menu on Feb. 14 from 5 to 9 p.m. Begin with an amuse bouche, then a progression of courses that range from Chilean sea bass with rock shrimp sauce to roasted rack of lamb. End the meal with a chocolate tower with raspberry garnish. The price is $80 per person. On Friday and Saturday, Back Bay Bistro also has a three-course menu available from 5 to 9 p.m. for $45 per person. For reservations, call (949) 729-1144 or visit NewportDunes.com/BackBayBistro.
BALBOA BAY RESORT
Join Balboa Bay Resort in the Bay View Room for a romantic five-course dinner that includes salmon tartar and caviar, followed by a salad of pea panna cotta, black olives and goat cheese. The entrée selections are sea bass or filet of beef. End with a white chocolate mousse and red velvet molten cake. Cost is $79.50 per person. For reservations, call (855) 923.8301 or visit BalboaBayResort.com.
BAYSIDE
On Valentine's Day celebrate at Bayside with a free-flowing champagne & mimosa three-course prix-fixe brunch for $48 per person. First course offers many options including white asparagus soup, griddle crab cakes, and roasted ruby beets. The main course has nine offerings, including frittata (baked Italian style omelet) and main lobster Bayside Benedict. There is also a prix fixe dinner menu starting at 4:30 p.m. for $68. For reservations, call (949) 721-1222 or visit BaysideRestaurant.com.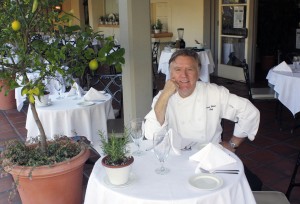 CAFE JARDIN AT SHERMAN LIBRARY & GARDENS
Chef Pascal Olhats has created a unique and romantic dining experience called "Two to Tango!" The evening features a four-course prix-fixe menu along with performances throughout the evening by professional Tango dancers. Items range from a Ying & Yang choice of red and yellow roasted pepper soup, or red and yellow steamed beet salad. The entrée choices include Surf & Turf (sautéed beef rib eye & grilled prawn shallot), River & Ocean (pan seared halibut & smoked trout filet), or Sweet & Sour (roasted duck breast served with sautéed brussels sprouts). End with white & dark chocolate mousse cake with berry compote. Price is $80 per person. Reservations can be made via Open Table or by calling (949) 673-0033. Visit SLGardens.org for more info.
 CITRUS
Citrus at Fairmont Newport Beach offers a three-course prix-fixe menu for Valentine's Day served 5 to 9 p.m. for $66, or $99 with wine pairings. For reservations, call (949) 476-2001.
 CUCINA ENOTECA
Reinvigorate Valentine's weekend Feb. 12 – 14 with CUCINA enoteca in Fashion Island as they roll out several à la carte aphrodisiac-style delights, such as Fanny Bay oysters, lobster diavola, and a caramelized white chocolate soufflé with blood orange and smoke vanilla. For reservations visit urbankitchengroup.com or call (949) 706-1416.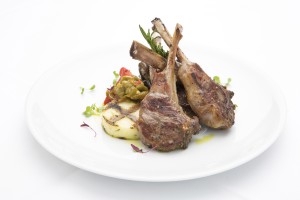 FIG & OLIVE
Treat your sweetheart to a three-course dinner at Fig & Olive on February 13 and 14. Appetizer choices are wild mushroom soup, seared sea scallops, or foie gras. Main course options are Chilean sea bass, filet mignon, or rosemary lamb chops. Finish with Clementine vacherin. Prix fixe menu is $79; wine pairing is an additional $35. For reservations, call (949) 877-3005 or visit figandolive.com.
FIVE CROWNS
Celebrate your true love at Five Crowns with a special four-course menu courtesy of Executive Chef Steve Kling that ranges from stone crab bisque to oysters, fois gras and prime ribs of beef. End with a choice of meyer lemon steam cake or flourless chocolate cake. Meal includes glass of wine, beer, or cocktail. Valentine's Day menu is available February 12-15. Price is $125 per couple. Call (949) 760-0331 or visit lawrysonline.com.
FLEMING'S
Celebrate Valentine's weekend with a three-course prix menu and wine from singer-songwriter John Legend. Menu will be available Feb. 12 – 14 and features filet mignon with Scottish salmon ($59.95) or North Atlantic lobster tail ($69.95). Both options include amuse-bouche and choice of salad. The regular dinner menu is available all weekend. For reservations visit FlemingsSteakhouse.com
 ISLAND HOTEL – OAK GRILL
The culinary team at Oak Grill helmed by Chef Marc Johnson is creating a four-course menu that features frutti di mare, lobster bisque, wagyu ribeye and Chilean sea bass. End with a chocolate salted caramel bombe; and a bubbly Champagne toast. Available Feb. 13 & 14. Cost is $100 per person. For reservations, call (949) 760-4920 or visit IslandHotel.com.
PROVENANCE
Chef Cathy Pavlos at Provenance is serving up some seriously good eats this Valentine's Day. Enjoy a five-course prix-fixe menu featuring lobster bisque with bay shrimp, and porcini crusted Black Canyon filet mignon topped with shrimp and served with truffle potato mash. $82.50 per person; optional $25 or $40 wine pairings. Gluten free and vegetarian options available. For reservations, call (949) 718-0477 or visit Provenanceoc.com.
PELICAN HILL RESORT
Pelican Hill offers an array of Valentine's weekend dining options Feb. 12 – 14 starting with Andrea Restaurant's special Italian lovers' menu, offering four courses with "his and hers" choices ($90 – $200) The Coliseum Pool & Grill has brought back their intimate and sensual dining experience called Dinner of the Senses which stimulates each of the five senses of sight, touch, taste, scent and sound. Served in a private poolside cabana, each course is eaten by hand without the use of utensils, tapping into the desire to nourish one another and share cherished moments together. $180 per person; $230 per person with wine pairings. Available Feb. 14 only. Pelican Grill has a romantic three-course feast with selections for him and her ($125 per person; $165 per person with wine pairings). Call (888) 507-6427 or visit pelicanhill.com.
ROTHCHILD'S
Celebrate Valentine's Day with Rothchild's four-course menu. Starters include calamari fritti, bruschetta, or blackened seared ahi. Entrées include swordfish cippolina, lamb, and osso bucco. End the evening with a choice of desserts. Cost is $79 per person. Available Feb. 14. For reservations call (949) 673-3750 or visit rothschildsrestaurant.com.
SUSHI ROKU
Join Sushi Roku on Feb. 14 for a special couple's menu priced at $120 including two complimentary glasses of champagne. Head Chef Shin Toyoda prides himself in featuring global ingredients throughout the menu to create a contemporary sushi experience unlike any other in the region. For reservations, call (949) 706-3622 or visit innovativedining.com.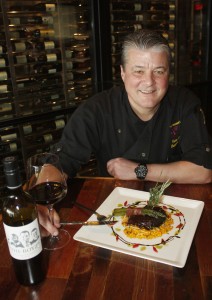 THE WINERY
Celebrate Valentine's Day on Feb. 13 and 14 with a special "Oh Baby!" prix fixe menu courtesy of Executive Chef Yvon Goetz. Begin with seasonal amuse bouche followed by several appetizer choices including prosciutto wrapped white shrimp, yellow fin ahi tuna tartar, and organic quinoa and baby beet salad. The main course has six selections including beef tenderloin and shrimp napoleon, New Zealand venison, and bone-in filet. Among the dessert choices are The Winery cheesecake and warm cinnamon sugar beignets. Price is $99 per person. To make reservation, call (949) 999-6622 or visit thewinerynewport.com.